Features
Commentary
Leading women scientists to the global stage
Published online 21 October 2020
Female scientists from the Arab region are leading national, regional and global initiatives to support women in STEM.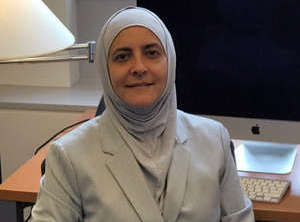 Three women have recently been announced as 2020 Nobel Prize winners: Emmanuelle Charpentier and Jennifer A. Doudna in chemistry, for developing the CRISPR/Cas9 genome editing tool, and Andrea Ghez in physics, for the joint discovery of a supermassive compact object at the centre of our galaxy. Their stories inspire us. But many challenges continue to face women scientists all over the world. In response, a number of initiatives are emerging from the Arab region to support equity and inclusion. These grassroots initiatives were showcased during Arab Science Week in August 2020. Each initiative is led by an Arab woman and addresses a particular challenge facing women in science globally. 
She Speaks Science makes role models more visible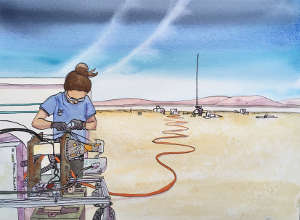 She Speaks Science is an online platform that showcases women scientists in a story format through a multi-lingual publication called Scheherazade, the name of the fabled storyteller of 'One Thousand and One Nights'. The initiative was started by Ghina Halabi, a postdoctoral researcher at the University of Cambridge's Institute of Astronomy. She was the first person to receive a PhD in astrophysics from a Lebanese institution. The platform highlights female role models in science to inspire more young people to engage in science, technology, engineering and mathematics (STEM) disciplines. The stories are engaging and informative, with the aim of helping young scientists develop a positive self-identity. By celebrating scientists as figures not only to look up to, but also to identify with, the website aims to encourage fresh perceptions about science and success. 
Creating support networks with Three Circles of Alemat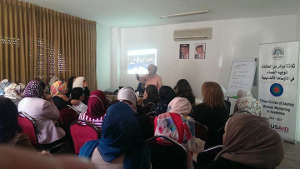 Three Circles of Alemat encourages the formation of multicultural mentoring networks that can help women academics develop the practical connections that support them at the personal and professional levels. Many currently available mentoring programs target graduate students. Three Circles of Alemat uniquely targets mid-career 'female scientists', alemat in Arabic, at the exact time when women start leaving the pipeline. The programme is designed to be applied by anyone, anywhere. Female scientists within their organizations create mentoring dyads in a speed-dating fashion that multiplies like a chain reaction. The programme is more important than ever due to the impact of the COVID-19 pandemic and the burden placed on women scientists to bear the brunt of childcare. Three Circles of Alemat can be adopted by minority groups and has been considered for women in other sectors, such as law, business and commerce. The project was developed by Rana Dajani, a professor of molecular cell biology at the Hashemite University in Jordan.
Women In Science Without Borders (WISWB): Meeting to exchange ideas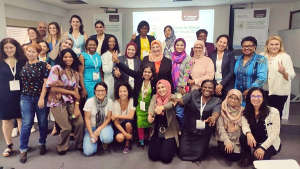 WISWB is a science-based, community-building initiative and network with members in 60 countries. It is an annual forum that aims to empower women in science through inclusion, networking and cooperation. It was launched in 2017 by Amal Amin, a polymer scientist at the National Research Center in Egypt. This multidisciplinary global event focuses on cutting-edge research and innovative ideas that support the Sustainable Development Goals, and involves capacity building, training, and mentoring, in addition to highlighting success stories and offering youth activities and competitions. The forum has been held in Egypt, Brazil and South Africa, with plans for the next forum to be held in Iraq. Weekly science webinars address the challenges facing humanity in the age of COVID-19 and beyond, and aim to connect experts around the world to facilitate scientific cooperation. The project is easily transferable allowing anyone to own it and run with it.   
To ensure real change we need policy change: IDEAL Society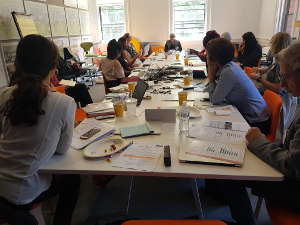 The IDEAL Society (Inclusion, Diversity, Equity, Action, Leadership) is an initiative that aims to influence policy to ensure that change is maintained and societies are held accountable. IDEAL Society is a group of women advocating for change in their individual countries. It was launched in 2018 by Jordanian, Hala Zreiqat, a professor of biomedical engineering at the University of Sydney, Australia. The initiative brings together people from many countries and sectors – intergovernmental, academic, corporate, and philanthropic  – to generate evidence, make policy recommendations, conduct communications and outreach programmes, and undertake advocacy to support the advancement of women at national, regional and global levels. 
These initiatives aim to empower women in the STEM fields, medicine and the social sciences. Their goal is to bridge the gender gap in science and society by encouraging mutual cooperation in academia, industry, and non-governmental organizations. These initiatives are gender inclusive, productive and innovative scientific platforms for all categories of scientists, stakeholders and people of all ages.
Each of these initiatives is important for addressing an aspect of the challenges facing women in science today. These are programmes that may have started in the Arab world or by Arab women to solve local challenges, but have gone beyond borders to help women all over the world.
These four initiatives set out a road map for how to enact sustainable, systemic change in the science ecosystem from the grassroots.
doi:10.1038/nmiddleeast.2020.110
---