Features
Book review
A fresh look at gender equality
Published online 5 June 2018
Sedeer el-Showk on a book that offers a new take on old questions.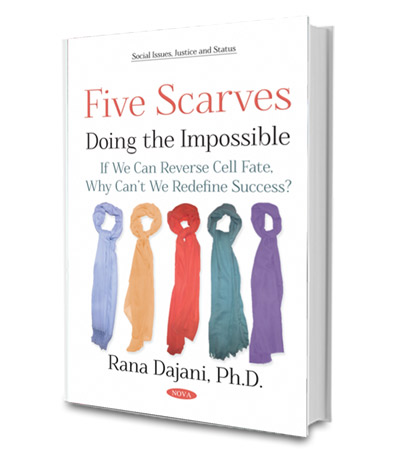 Despite the noteworthy accomplishments of feminist theory and practice, it's easy to see how much still has to change. Reminders of structural sexism, implicit bias, and outright abuse abound, from the Everyday Sexism project to #MeToo. In her new book Five Scarves: Doing the Impossible, Rana Dajani interrogates how our conceptions of success and gender equality relate to each other. 
A molecular biologist by training, she draws an analogy with the paradigm shift biologists experienced when they discovered how to transform ordinary cells into stem cells. "I want to do in the world of feminism something like what stem cell pioneers did for the world of biology," she writes in the preface.
The jacket summary describes Dajani as "one of the world's leading Muslim women scientists", and she writes without apologizing for who she is or what she believes. She wears the "five scarves" of the title, and none of them is 'woman' or 'Muslim'. Though she is unabashedly both, her story is about her experiences and discoveries as a mother, teacher, scientist, social entrepreneur, and feminist.
The book is structured around the story of her life, with the five scarves emerging as she takes on different roles. The earliest chapters of Dajani's biography set the stage and introduce her; as the different roles and challenges emerge, they offer examples of the issues Dajani is concerned with and serve to illuminate the perspective she brings to bear. She tackles these issues directly in the final two chapters. In some ways, those chapters are the most rewarding, perhaps due to a personal interest in sociology. Dajani's writing is pleasant and thoughtful, and general readers will probably find her biographical approach satisfying.
Dajani wants to speak rather than be spoken about. She wants to offer a voice for people like herself, who are usually the subject of other's concern, and she does so by stepping forward as a subject herself and challenging readers with her ideas and her perspective.
Readers are rewarded by seeing old questions in a new light. For example, Dajani addresses the hijab as someone who wears one, not as an outsider concerned about women's rights. For her, wearing a hijab is an act of liberation, freeing her from objectification. "When I am working side by side with men, I want them to see and respect me as an individual thinker. Wearing the veil is about celebrating my humanity and sending a clear message to men to treat me as a peer," she writes.
Dajani brings the same refreshing perspective to a range of other issues. Informed by her own experience and scientific background, she offers a different take on the challenges facing women in STEM fields. Rather than speaking down to the women of the developing world, she looks at data to understand the situation and evaluate hypotheses. 
For example, women make up 60% of STEM students in the Gulf but only 30% in the US and Europe, an unexpected reversal that raises the question of what Western educators might be able to learn from their Middle Eastern counterparts. But Dajani doesn't stop there. Despite representing a majority of STEM students, women researchers are a minority in the Middle East (though the proportion is larger than in the US!), challenging the notion that a lack of education is keeping women out of STEM fields.
Dajani also turns a critical eye towards her own region. She describes the systemic flaws facing science in the Middle East and tells us how she empowered herself and overcame them. Faced with a lack of resources for research when she returned to Jordan, Dajani found a question small enough to tackle with the tools she had but big enough to impact on global research.
Beyond the realm of research, Dajani brings the same attitude to bear to broader societal questions. Her book is full of interesting and inspirational stories about projects she's worked on, such as a reading campaign for Jordanian children and a project to help Syrian refugees deal with trauma. 
Dajani thinks and acts at the intersection of a range of issues. For example, she merges motherhood and other "scarves" by involving her children in projects, getting ideas from them and inspiring them to change the world around them, passing along her mother's lesson that "that we had to change the world; nobody was going to change it for us."
Dajani brings a pluralist ethic to the question of gender equality, highlighting the problem of "scholars and activists from foreign cultures" telling women around the world what they need. She calls for women "to reach out across borders and have serious conversations with one another about their aspirations and needs." At the same time, she advocates a deep, structural change – a paradigm shift – in our view of women and femininity and our definition of success. 
The tone of Five Scarves is comfortable; Dajani talks with the reader, not down to them. Through that conversation, the book challenges readers to consider new questions or to look at familiar questions in a new light. After finishing the book, one may feel as though they've gotten to know Rana Dajani to a certain extent, in the way that good books often leave a reader with a new and interesting friend.
Five Scarves: Doing the Impossible will go on sale in September 2018.
doi:10.1038/nmiddleeast.2018.64
---