About us
About the editor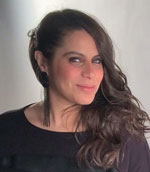 Pakinam Amer is an award-winning investigative journalist with more than a decade's experience in news reporting and editing. Before joining Nature Research, Pakinam specialized in current affairs, reporting on conflict and the political climate in Egypt and the Arab world.
She wrote for several news organizations, including the Associated Press (AP); the German News Agency (DPA); Al-Masry Al-Youm's English edition, Egypt Today and Business Today magazines. She's had bylines in the Financial Times, World Politics Review and work experience in the Independent, the Sunday Times, and Hardcash Productions, Emmy-winning creators of first-class documentary films and video features.
In 2012, she won the prestigious EU-sponsored Samir Kassir Award for the year's best investigative feature.
She holds a BA in print journalism and a minor degree in psychology from the American University in Cairo (AUC), Egypt and an MA in Investigative journalism from City, University of London, UK.
Pakinam produces and hosts Nature Middle East's weekly podcast, the region's first science podcast in English.
Besides science writing, Pakinam is passionate about storytelling, visual arts, pop culture and comic books. She spends the bulk of her spare time training in digital painting, drawing and comic book art. She's based in Cairo, Egypt.
About the site
The Arab world has a rich history of scientific enquiry. During the Golden Age of Science, the Arab world was influenced by texts from neighbouring regions of Greece, Persia and India, and built on them with great discoveries and inventions such as algebra, optics, medicine and many others. For more than 500 years Arabic was the language of science. Following translation into Latin, Arabic scholarship fed back to these neighbouring regions and helped lay the foundation for the European enlightenment and current Western science.
Nature Middle East has been created with an understanding of the potential of the Arab world to once again be an important centre of science. It covers a diverse group of 18 nations: Algeria, Bahrain, Egypt, Iraq, Jordan, Kuwait, Lebanon, Libya, Morocco, Oman, the Palestinian territories, Qatar, Saudi Arabia, Sudan, Syria, Tunisia, United Arab Emirates and Yemen. Nature Middle East is about recognizing the contribution of many different peoples working together, united by a common language.
Nature Middle East is a comprehensive portal site for information on scientific and medical research in the Arabic-speaking Middle East, the research community and its activities. It is a site with a broad scope that caters for scientific and medical researchers at all levels, from students to post-doctoral fellows to principal investigators. Most importantly, Nature Middle East will be a unique online platform for the scientific and medical research community to connect, network and exchange information or ideas, to promote good science and stimulate research and debate.
Advertise with us
For advertisement sales, please contact:
Jon Giuliani
+44 (0)20 7843 4922
Interact with us
Updates from Nature Middle East appear on Facebook and Twitter, where peers can network or indulge in a leisurely chat.
You can also sign up to receive our e-mail alert every two weeks for updates on the latest stories published on the portal.
Nature Middle East hosts the "House of Wisdom", a blog where you can interact with the website's editors and other readers.
For editorial enquiries, contact us at NatureMEast@nature.com.