Features
Arab science diaspora sets its sights back home
Published online 12 October 2022
Arab researchers around the world are renewing efforts to build stronger networks with colleagues in their home countries.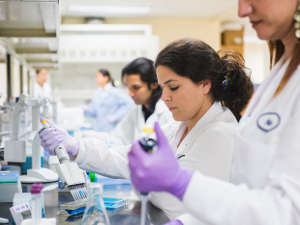 The COVID-19 pandemic has ushered the global science community into a new era of multidisciplinary projects and cross-border partnerships fuelled by the virtual tools of collaboration. It has also reinvigorated conversations about harnessing the potential of Arab scientists around the world.
"The concept of diaspora is very important and relevant today," says Rana Dajani, a Palestinian-Jordanian molecular biologist who is a visiting professor at MIT's Refugee Action Hub in the United States. "I think with COVID we realised that we are not all safe if any human in the world is not safe; and that is an incentive to break barriers." 
Dajani is president of the Society for the Advancement of Science and Technology in the Arab World (SASTA), which organised the Global Conference for Diaspora Networks in Science, held virtually between September 21 to 23.
The conference aimed to bring together the scientific diaspora with stakeholders in academia, government, industry and the media to share experiences and identify best practices to untap the potential of these networks. 
The best of both worlds
Studying or conducting research abroad can guarantee opportunities that are often lacking in home countries. 
Wael Al-Delaimy, a professor of public health at the University of California San Diego and chair of SASTA's board of directors, emigrated from Iraq to New Zealand to obtain his master's degree and PhD, before moving to the United States. "I had high ambitions to seek higher education and professional achievement that were not going to be fulfilled in Iraq," he says. 
Sara Abdelgalil, a paediatric consultant and associate professor at the National Health Service in the United Kingdom, graduated top of her class at the University of Khartoum. "But things were not easy in Sudan for post-graduate studies. The political situation affected the quality of education and public health services were collapsing." Abdelgalil obtained a master's degree from the Liverpool School of Tropical Medicine. "I thought I was going to return to Sudan, but ended up staying in the UK for 20 years." She felt that her research options and career prospects would be limited back in Sudan in her area of expertise, paediatric allergy and immunology.
Scientists like Al-Delaimy and Abdelgalil still often feel a need to give back to their countries of origin and help in cross-border knowledge exchange. "I love my country and feel I received free governmental education in Sudan, therefore there is an obligation to serve the people there," says Abdelgalil. 
There are many ways to engage, they say. 
Al-Delaimy has been identifying funding opportunities that can help scientists in the region. For example, the US National Institutes for Health provided funding for Al-Delaimy to train and co-mentor more than 100 faculty and researchers from 12 Arab countries on research ethics. 
Abdelgalil has coordinated the Sudanese medical diaspora in the UK, US, Canada, Australia and Qatar, co-supervises theses in her field of specialization in Sudan, and established the Sudan Paediatric Allergy Network (SPAN). The network has supported various research initiatives, such as examining the role of community pharmacists in allergy management, delivering a report to Sudanese officials that assessed oxygen delivery requirements during the COVID-19 pandemic, and providing telehealth guidelines to Sudan's Federal Ministry of Health. 
The power of local knowledge 
Speakers at the Global Conference for Diaspora Networks in Science agreed about the importance of harnessing the local knowledge of the scientific diaspora. 
Dajani explains that scientists from the Global North often fail to include their counterparts originally from the South when they engage in activities in those regions. Engaging Arab scientists, she says, would ensure more cooperation from people in their countries, and lead to better quality research that is steeped in the local culture. 
Dajani also emphasizes the importance of engaging youth to ensure effective collaboration networks. "They are creative and energetic," she says, and can help to coordinate those collaborations.
A main recommendation from the conference was that scientists should not wait for governments or institute-wide initiatives to collaborate with peers or stakeholders in their home countries. Collaboration needs to start at an individual level, with scientists reaching out and initiating small-scale partnerships with colleagues who share their research interests. 
Al-Delaimy says Arab governments are not doing enough to ensure their scientists abroad are part of a solid network. "Previous attempts never followed [through] and they got mired in internal politics," he says. 
"Bureaucracy creates impediments," says Dajani, so it is important to reach out on a one-to-one basis and engage. "These small actions gather momentum and then become strong and have a voice and others start joining in. Eventually, it becomes more official and formal," she says. "This is how science is done and advances in the West; it is not one university signing an agreement with another, but rather scientists coming together because they are curious and realize the added value of co-creation and division of work." 
Abdelgalil says scientists in their home countries should not need to rely on foreign experts to teach them. "There are lots of talents and good expertise in the home countries and among the diaspora; some who are working abroad but who know the system, country and people who can deliver training," she explains. 
There is a "treasure trove at their door steps," says Al-Delaimy, encouraging Arab scientists to engage more with their compatriots who have moved abroad.
doi:10.1038/nmiddleeast.2022.64
---