News
Gender gap affects food insecurity levels in Arab region
Published online 25 January 2022
Women in most Arab countries are feeling the impacts of food insecurity more than men, highlighting the need to improve gender-related policies in the region.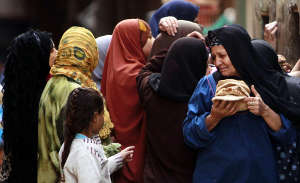 Women are more likely to be food insecure, with poorer perceived health and well-being compared to men, according to a study based on data from 18 Arab countries.
"Our findings shed light on the gender disparities in the Arab world," says Lamis Jomaa, associate professor of nutrition at the American University of Beirut. The findings highlight the need for gender-sensitive policies that promote women's engagement in the workforce, close the gender pay gap and improve access to assets, resources and services, including education, healthcare and technology, she adds. 
The researchers assessed food insecurity prevalence within and across Arab countries by examining data from annual 2014-2017 Gallup World Poll surveys. They also explored the potential interactions between gender, and the socio-demographic determinants of food insecurity, which include age, educational level and employment status. Finally, they examined associations between food insecurity and wellbeing using a gendered lens. 
The data revealed that 43% of the study population felt they had experienced varying degrees of food insecurity in the years surveyed. Overall, women experienced higher levels of food insecurity (45%) compared to men (41%), except in Bahrain, Kuwait, Saudi Arabia and the United Arab Emirates. The food insecurity gender gap was largest in Mauritania, Somalia and Yemen. 
Elderly women who were not part of the workforce and had poor social support were more likely to experience food insecurity, compared to women who were married or had higher education levels . 
Women experiencing food insecurity also expressed lower levels of perceived wellbeing compared to men.
Maha Hoteit, professor of nutrition sciences at the Lebanese University, Beirut , who was not involved in the study, says the findings highlight the significant challenges faced by Arab countries in ensuring regular access to safe and nutritious food for all people. "The region had been off track to achieve hunger and nutrition-related Sustainable Development Goal targets even before the COVID-19 pandemic," she says.
Women can suffer from macro- and micronutrient deficiencies, especially during reproductive years, with long-term negative development impacts for society as a whole, explains Hoteit. She adds that this has negative repercussions on households, leading to malnutrition among children, adults and the elderly.
doi:10.1038/nmiddleeast.2022.2
---