Features
Interview
Improving healthcare response to gender-based violence in Palestine
Published online 3 March 2019
Amira Shaheen's research aims to improve women's health by narrowing the information gap on gender-based violence interventions in low- and middle-income countries.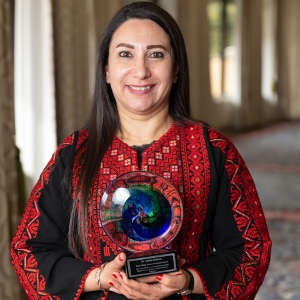 Palestinian epidemiologist, Amira Shaheen, has received the 2019 Organization for Women in Science for the Developing World (OWSD)–Elsevier Foundation Award for her work investigating the Palestinian healthcare system's readiness to identify and refer victims of gender-based violence.
One in three married Palestinian women is exposed to some form of gender-based violence1 , a rate in line with international figures.
Healthcare systems play a crucial role in gender-based violence responses, yet most data on integrating interventions into healthcare systems is generated in the global North. Shaheen's research helps address the need to develop and evaluate gender-based violence interventions in low- and middle-income countries.
The annual award is given to five early-career women scientists from developing countries for their research accomplishments, demonstrable impact on improving lives in their communities, and commitments to mentoring young scientists. 
Nature Middle East spoke to Shaheen, an assistant professor at An-Najah National University in Nablus, Palestine. 
How did you get involved in investigating the healthcare system response to gender-based violence in Palestine? 
In 2017, I was invited by the University of Bristol to join a project, co-led by the The London School of Hygiene & Tropical Medicine, in response to a call for the UK Medical Research Council's Global Research Challenges Foundation Award. Our proposal, 'Healthcare Responding to Violence and Abuse' (HERA) received the grant, and the project began the same year.
What did the project involve? 
A tool developed by the World Health Organization was used to test the readiness of two pilot clinics to identify and refer victims of gender-based violence. Though there is already a referral system in place in Palestine, our research aims to enhance the knowledge of healthcare providers on how to identify women survivors of violence and where to refer them. A case manager, usually a nurse, was identified in each pilot clinic for identified cases to be referred to for further action. 
What are the project's main findings? 
Data analysis is ongoing, however our preliminary results indicate that there has been a rise in the identification and reporting of gender-based violence victims. However, no notable change has taken place in referrals. 
Identified women have become more relaxed during their visits to the health clinics and in sharing their stories with the case manager. They have the desire to change their lives for the better, but they refuse to be referred for further action by the case manager. 
Most of these women were found to suffer from psychological problems as a consequence of the violence they experienced, and have said talking with the case manager provides a form of relief. 
How does your research contribute to tangible improvements in women's health in Palestine?
Women in Palestine were not aware of the role of healthcare providers in tackling the issue of gender-based violence. There was the notion that their visits to healthcare centres were only for receiving treatment. 
Through HERA, we have scaled up the response by improving awareness among healthcare providers regarding their roles in identifying and referring victims of gender-based violence, and teaching them how to approach women sensitively about this issue. We have seen women become more open to talking about violence, and more women approach healthcare providers asking for help. 
What role will your research play in shaping policies and programmes to improve the healthcare system response to gender-based violence in Palestine?
This pilot study is the first research of its kind in Palestine dealing with gender-based violence interventions in the healthcare system. 
The Ministry of Health (MOH) has been involved with HERA from the beginning, and we will share our results will with them next month. The MOH has told us that, if the interventions we have been evaluating work, they wish to adopt the model and apply it within their clinics. 
Tell me about your mentoring of young women pursuing careers in public health.
I currently supervise the research of undergraduate students at Al-Najah National University, and prior to HERA I supervised national and international master of public health students and the graduation research projects of medical students. 
Through the public health and epidemiology course I currently teach, I focus on the importance of students' careers not only as researchers, but also in increasing awareness in their communities about culturally sensitive issues like gender-based violence. Many of my female students continued their studies in public health as a result of the encouragement they received while taking this course. 
What comes next for your research?
Based on our preliminary results, we are embarking on HERA2, which aims to further scale up the response of healthcare providers by providing basic skills in psychological support. 
In the future, we would also like to follow up with identified women to look into the impact of violence on their health, as well as on the health of their children. 
doi:10.1038/nmiddleeast.2019.32
---