Research Highlights
Ambulances intentionally attacked in Syria
Published online 29 November 2018
Ambulances are being intentionally targeted in Syria as part of a war strategy, reports a study.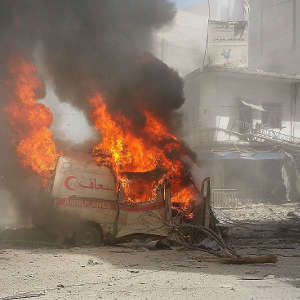 More than half of ambulances attacked in war-torn Syria from 2016 to 2017 were directly targeted, new research has found.
Of the 204 individual attacks involving 243 ambulances across Syria between 2016 and 2017, 60 per cent were carried out by the Syrian regime and 29 per cent by Russian armed forces, a literature review published in BMJ Global Health found. The ambulance attacks largely occurred in Aleppo, Idlib and Damascus governorates.
Half of the attacked ambulances were left heavily damaged or put out of service. This had significant ramifications, including exacerbating delays to healthcare and an inability to retrieve the sick and wounded because of a lack of functioning vehicles. 
"There is no ambiguity in the results of these findings: ambulances are directly targeted and attacked to an unconscionable degree," says emergency physician C Hayes Wong of Columbia University in the U.S., who co-authored the study. 
The most common types of attack were air-to-surface missiles and shelling. However, the use of cluster and barrel bombs, which came to dominate the skies during the siege of Aleppo, also caused significant destruction. These methods likely contributed to the large number of ambulances that were collateral damage during an attack on a hospital, for example, the study found.  
The conflict in Syria is now in its eighth year. It is the most dangerous place on earth for healthcare personnel.  
"The UN Security Council must do more to hold governments responsible and bring harsher punishments against those who perpetuate these horrific attacks on healthcare," Wong says. 
doi:10.1038/nmiddleeast.2018.148
---
Wong C. H. et al. Ambulances under siege in Syria. BMJ Glob. Health 3, e001003 (2018).