News
Environmental infrastructure a potent weapon in warfare
Published online 30 September 2017
The targeting of environmental infrastructure in war has become an end in itself, with long-term implications for human welfare and ecosystems.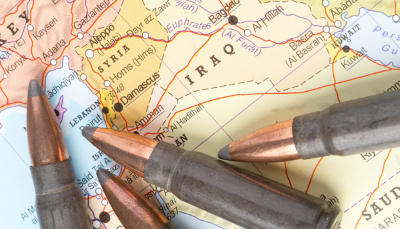 Warring parties in the Middle East and North Africa (MENA) have increasingly targeted water and energy infrastructure as tactical weapons, and as forms of collateral damage, with long-term implications for human welfare, ecosystems, and livelihoods, a new study has found. 
The study, published in Security Dialogue, compares the conflicts in Syria, Yemen and Libya to better understand how warfare has targeted water, sanitation, waste, and energy infrastructures.
The research, a collaboration between Jeannie L. Sowers, of the University of New Hampshire, Erika Weinthal, of Duke University, and Neda Zawahri, of Cleveland State University, reveals that this is now a prevalent tactic and central aim of warring parties. 
By targeting, destroying or controlling such infrastructure through indiscriminate and punitive tactics, warring parties are able to displace and terrorise urban populations, punish civilians perceived as being sympathetic to the enemy, deprive rival warring parties of energy resources and revenues and force the surrender of cities. 
Sowers suggests this issue is lightly studied because its implications are so difficult to measure, pointing to the challenges of quantifying daily lives lost from contaminated water, malnutrition and pollution. 
Also, she says, fewer humanitarian organisations are working in these conflict zones, as they too have become targets of violence.
In urban areas, the study notes, "a complex web of infrastructure for water, energy and transport to sustain human welfare and livelihoods," provide the foundations for security. 
The authors contend environmental infrastructures are also the principal means by which human impacts on natural ecosystems are mediated, thus their systematic destruction has severe implications on both health and the environment. 
"Much of our infrastructure protects quality of life," says Peter Gleick, president emeritus and chief scientist of the Pacific Institute in California. "Specifically, targeting water infrastructures poses very serious risks to public health. Water infrastructure protects water quality, access to safe water and the ability to treat human and industrial waste. When water infrastructure is attacked civilians lose access to safe water, are often exposed to the growing threat of water-related diseases, like cholera, and it affects the ability to produce goods and services in industry."
The authors note that, "particularly in cities where sieges have hindered repair of environmental infrastructures, factors such as hunger, malnutrition, water-borne diseases, and lack of medical care interact to increase civilian mortality."
Martin King, a John O'Rankin associate professor of the Elliot School of International Affairs at the George Washington University, contends this war tactic will further jeopardize long-term environmental security. 
"Water is essential to all environmental services including agriculture, energy production and sanitation and waste management. Targeting increasingly scarce water supplies will ripple across all of these sectors and multiply the damage to human security," King says, adding, "the ecological footprint on fragile desert ecosystems will last for generations."
In previous wars in the MENA region, international humanitarian and environmental law have not been a deterrent. To counter this limitation, Sowers contends the international community and leadings states need to bolster existing laws, and further clarification is needed on what can and cannot be targeted during warfare under these laws. 
Sowers also highlights the need to focus more on adequately accounting for the interdependencies of water, energy and food systems because the destruction of one sector leads to negative effects in others.
Environmental infrastructures are crucial to rebuilding lives and livelihoods after conflict, according to the study, and their repeated destruction in the MENA region inhibits the restoration of basic services and hinders reconstruction necessary for development.
doi:10.1038/nmiddleeast.2017.144
---