News
Aleppo health facilities become killing fields
Published online 9 May 2016
In Aleppo, the danger caused by fighting is compounded by a lack of medical staff.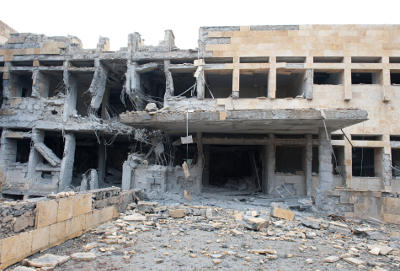 Ninety-five percent of health practitioners in Syria's rebel-held eastern Aleppo have either fled or been killed, according to Médecins Sans Frontières (MSF).
East and west Aleppo has been divided between government forces, and insurgent groups, ever since fighting broke out in 2012. 
In late April, Al Quds hospital, the main paediatric hospital in eastern Aleppo was hit by government air strikes, killing 55 people, including possibly one of the city's last remaining paediatricians, a dentist and two nurses, according to some reports.
A few days later, a health centre was targeted by barrel bombs and destroyed and a maternity hospital in a government-controlled area was damaged, killing at least 19 people. 
This was the sixth attack on a medical facility in nearly two weeks of renewed violence that has killed more than 250 people in what the UN described as a "monstrous disregard" for civilian lives. 
"The situation in Aleppo is critical as airstrikes leave no part of the city untouched, and an estimated 250,000 people are in danger of being cut off from aid, including medical care," says MSF staff working on the crisis. A fragile truce extends until today, and what comes next is unclear. 
"Tens of thousands of displaced people are trying to flee the fighting and we expect many more to try to reach safety from Aleppo city in the coming weeks." 
MSF, who supports Al Quds and 22 other health facilities in Aleppo, has accelerated the delivery of drugs and medical equipment to the city. There is still a severe shortage of medical supplies, equipment and staff. 
Zaher Sahloul, a former president of the Syrian American Medical Society (SAMS), an NGO which supports eight hospitals in eastern Aleppo, says the situation is "beyond description". Sahloul is now based in the US, but he frequently visits Syria and the Syrian border with Turkey. 
He says there were only about 60 doctors left in rebel-held Aleppo to serve 250,000 people.  
"There are more doctors and staff left in government-controlled areas but their number is dwindling due to the forced displacement and deteriorating safety and economic situation," he adds. 
Sahloul says the indiscriminate targeting of medical facilities means that destroyed hospitals are being forced to rebuild underground. Other reports are claiming that patients are being treated by local vets in their own homes. 
One hospital, he says, relies on remote telemedicine support from US-based critical care specialists on critical procedures and cases.
Civilians also rely on former medical students and newly trained nurses to provide care. 
The organisation supports an underground nursing school that trains high school graduates and former university students to provide medical care. Every year, between 50 and 70 nurses graduate from one of the two nursing schools operating underground Aleppo, Sahloul says. 
According to Physicians for Human Rights (PHR), there have been more than 350 attacks on medical facilities in Syria overall. More than 400,000 people have been killed in the last five years, according to the UN. 
doi:10.1038/nmiddleeast.2016.53
---