News
Green schools planned in Gaza
Published online 21 December 2011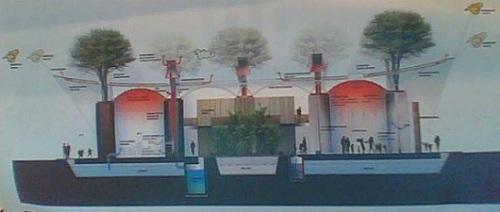 The United Nations plans to build a sustainable, carbon-neutral Gaza. As a first step, the UN Relief and Works Agency (UNRWA) has partnered with award-winning green architect Mario Cucinella to build a green school in the Gaza Strip.
"When we saw Mario's work, we were immediately interested in it for Gaza," said Ugo Bot, UNRWA's external relations officer. "With Gaza's precarious water and electricity supply, the school would be of educational and social benefit."
Cucinella, founder of Mario Cucinella Architects, favours simple construction systems over expensive technology. "In the past, people in the Middle East built beautiful buildings with a natural heating and cooling system. That capacity is now forgotten," he said.
Green technology is considered expensive owing to the initial investment typically involved, but Cucinella has demonstrated it can be affordable. At a cost of US$2 million, his school will cost little more than a normal school built by the UNRWA, which cost on average about US$1.8 million.
Green design
A concrete slab will form the foundation for the school, with the bedrock beneath acting as a first 'bioclimatic moderator', which can regulate the building's internal temperature. Cucinella explains that pipes will run through prefabricated hollow concrete pillars passing through the school that can heat or cool the building's interior to keep a tepid temperature within the classrooms. The pipes will suck hot air from outside, travel through the interior and cool it before being expelled through solar chimney ventilators.
Polycarbonate mashrabiya panels, a type of projecting window with a wooden frame popular in the Middle East in the 19th century, are another natural source of ventilation.
The curved roof is designed to collect rainwater and store it in separate storage tanks. Shrubbery on the roof will also act to cool the building. One storage tank will hold potable water, the other water for the sanitation system. A ground wetland purification system will recycle wastewater for toilet and irrigation use. Plants and bacteria remove pollutants from the water, with plants absorbing nitrates and phosphates and bacteria consuming organic waste.
The school will source its energy needs from local renewable resources. "It's off grid-and self-sustaining. We aren't reliant on expensive technology," said Cucinella. Amorphous thin solar photovoltaic panels covering 400 square meters will provide the power.
Bot hopes the school's sustainable approach will spread beyond its walls. "It can become a meeting place for the community, where they have good access to clean water and electricity. But also, it can change mindsets in Gaza. Very few people are familiar with green architecture and recycling of rainwater. It's a learning experience."
Technology transfer is high on UNRWA and Cucinella's agenda. "We want to share this technology with communities, so they can use it to build their own schools or use this design in their homes."
UNWRA plans to build another 20 such schools in the Gaza Strip. "We are adopting green technology, and want to mainstream it into our work in all sectors and in all areas, not just Gaza", said Bot. "In developing green standards, we'll be creating jobs and providing training opportunities."
doi:10.1038/nmiddleeast.2011.169
---