Features
Metabolic model to help in search for biofuel algae source
Published online 14 September 2011
Abu Dhabi might be the next hotspot for research into next generation algae biofuels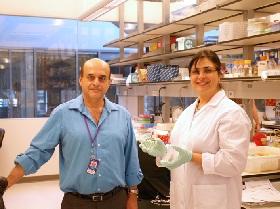 Kourosh Salehi-Ashtiani, a biotechnologist at New York University Abu Dhabi (NYUAD), has helped develop the first genome-scale metabolic model for an algal species. Salehi-Ashtiani is intent on using this model to explore Middle Eastern algae in the search for the ideal biofuel.
The researchers modelled the metabolic network of the algae species Chlamydomonas reinhardtii, a popular species for studying molecular biology. They matched the different biochemical activities of the algae to its genetic sequence, which involves some 1,080 genes associated with 2,190 reactions and 1,068 unique metabolites "The advantage is that Chlamydomonas is a well-known species. The things we know and learned from it can be used on other algal species that can be of more value for biofuels," says Salehi-Ashtiani.
The metabolic network model was developed into a computer simulation that can be used to estimate the effect of genetically engineering an algal species. "Interesting predictions can be made with the model, such as what happens if we take out a gene. We can also find out if a gene is essential or not for a particular function," explains Salehi-Ashtiani.
"That's really the beauty of such genome-scale reconstructions. I can use them to model and predict how the system would behave under various perturbations, and I can do that quickly. I can model the requirements to generate biomass. If the function of a gene is to generate biomass, I would predict that the gene is essential," says Jason Papin of the University of Virginia, and involved in the research.
The team can now make such rapid computational analyses in a matter of seconds to determine which genes influence growth without having to conduct time consuming wet-lab experiments. It is possible to study the outcome of knocking out or adding genes that affect the production of energy-rich compounds, such as lipids. This could facilitate the optimization of algae in the development of next-generation biofuels
Algal biofuel
There are a full spectrum of challenges ahead, ranging from engineering to bioengineering and ultimately to refining the final products.
Biofuels are winning support as a sustainable alternative to fossil fuels. Most biofuels manufactured today are produced from plants crops and compete with food crops for valuable resources, including agricultural land and fresh water.
Algae, however, are seen as a good option to produce a large amount of fuel without encroaching on agricultural land.
Salehi-Ashtiani wants to find algal species in the United Arab Emirates and the wider Middle East that could contain enough energy to be economically viable in producing biofuel. "I think it is advantageous to look into salt water species because it doesn't use freshwater so it will not tap into human drinking water supply." He suggests that the abundant sunlight in the Middle East might be the perfect breeding ground for algae suitable for use in biofuel production.
Papin suggests that the model developed using Chlamydomonas can be used to identify which metabolic processes are particularly important for use as a biofuel. "Researchers could then explore other species that may perform that specific process more efficiently. Without a model-guided exploration of which process is of greatest value, the exploration of species may be done a little more blindly."
The team plan to sequence the genome of promising algae species and define the metabolic connections. "We can then add or remove reactions and pathways from the Chlamydomonas metabolic network to generate metabolic models specific for the new species," explains Salehi-Ashtiani.
"In this way, the metabolic model that we have generated for Chlamydomonas will be used as a guide to generate models specific to the new species," he adds. Any reactions or pathways that are not present in Chlamydomonas will be added to the model, and those that are present in Chlamydomonas but not in the new species will be removed. "In essence, we would reconcile the model with genomic evidence for the new species," explains Salehi-Ashtiani.
But finding good candidate algae species is only the first step towards securing a new, sustainable source of biofuel, says Salehi-Ashtiani. "There are a full spectrum of challenges ahead, ranging from engineering to bioengineering and ultimately to refining the final products.
"These challenges, along with the prospect of developing a sustainable energy resource, are what makes this an exciting field and time."
doi:10.1038/nmiddleeast.2011.122
---
Chang, R., Ghamsari, L. et al. Metabolic network reconstruction of Chlamydomonas offers insight into light-driven algal metabolism. Molecular Systems Biology 7:518 doi: 10.1038/msb.2011.52