Research Highlights
Identifying cancer risk in native Qataris
Published online 17 February 2022
A large genomic analysis demonstrates how cancer risk varies among Qataris according to their ancestral origins.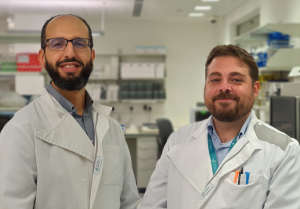 Cancer risk varies among native Qataris of different ancestry groups, according to a study linked to the Qatar Genome Programme and focused on susceptibility to breast, prostate and colorectal cancers. 
Genetic predisposition to cancer can be caused by the combination of multiple, common low- and modest-risk genetic variants or by rare variants in high-risk cancer genes. Understanding variations in cancer-related genes in Middle Eastern populations can pave the way to tailored prevention strategies and precision medicine.
Researchers applied nine polygenic risk scores to the DNA sequences of 6,142 Qataris of six ancestry groups, and identified various ethnic differences. For example, Qataris with Arabian Peninsula ancestry showed the lowest risk for colorectal cancer, while those with African ancestry had the highest scores for prostate cancer. 
The team also analysed rare high-risk variants of 1,218 cancer susceptibility genes. Compared to international datasets, the Qatari genomes had a higher prevalence of certain variants in cancer genes, such as two associated with an increased risk of colorectal cancer. Cancer predisposition also differed according to ancestry: more than half the carriers of breast cancer variants were of Persian ancestry while none were of Arabian Peninsula ancestry. The researchers also identified at least 76 Qataris in the study who carry a high-risk genetic variant for which cancer can be prevented via specific screening programmes, family genetic counselling, medical or surgical procedures.
"This study in marks the beginning of many future ones to improve our understanding of cancer risk in the context of world population diversity, specifically amongst Arab populations," says Younes Mokrab, head of the Medicine and Population Genomics Lab at Sidra Medicine, Qatar. 
doi:10.1038/nmiddleeast.2022.6
---