News
Genes reveal population changes in ancient Middle East
Published online 9 August 2021
A comprehensive whole genome sequencing study of Middle Eastern populations shows how ancient humans adapted to agricultural development and desertification.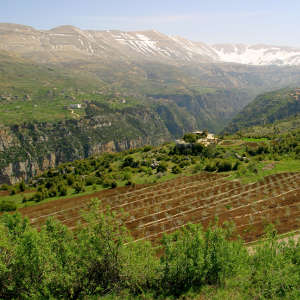 Genome sequencing techniques are often used to identify disease-causing genetic variants, but can also allow researchers to explore historic population dynamics and examine how humans have adapted to environmental challenges over time.
Now, Mohamed Almarri and Chris Tyler-Smith from the Wellcome Sanger Institute, Marc Haber from the University of Birmingham, UK, and colleagues including scientists in the United Arab Emirates and Saudi Arabia, have sequenced 137 complete human genomes from eight modern Middle Eastern populations, allowing them to map human evolution in the region from 100,000 years ago to the present day. 
"The Middle East has been absent from seminal global genome sequencing projects such as HapMap and the 1000 Genomes Project," says Haber. "Our project aimed to rectify this." 
The team used 'linked-read' sequencing, which provides long range information from DNA that is missing in standard short-read sequencing techniques. 
"If two genetic variants in an individual lie close to each other in the genome, each might descend from a separate parent, or both might have descended from one parent," says Almarri. "This information is visible in linked-read sequencing, providing vital details regarding fluctuations in the size of a population over time, and helping us infer when populations have separated from each other."
They found that all Middle Eastern populations originated from a single expansion out of Africa 50 to 60 thousand years ago. 
"Arabian groups (Emirati, Saudi and Yemeni) have high ancestry from a 'ghost' population that, unlike ancestors of other Eurasians, did not mix with Neanderthals," says Almarri. "As a result, Arabians today have the lowest Neanderthal ancestry of all Eurasians."
The results highlight a rapid expansion of the Levantine population over the past 15,000 years, linked to the development of agriculture in the north of the region. There is a distinct bottleneck in the hunter-gatherer Arabian population tied to the formation of the Arabian Desert around 6,000 years ago. The Levantine population also experienced a population decrease 4,000 years ago as the region became more arid. The researchers could even show the spread of Semitic languages through population movement and mixing. 
They also identified 4.8 million genetic variants specific to the Middle East, including 370,000 variants common to all eight population groups. These include lactose tolerance variants, possibly stemming from the move to settled farming, and variants that may have been beneficial in the past but that now heighten the risks of developing metabolic diseases such as type 2 diabetes. "Any of these thousands of variants could hold medical significance and warrant further study," says Tyler-Smith.
doi:10.1038/nmiddleeast.2021.67
---
Almarri, M.A. et al. The genomic history of the Middle East. Cell 184, 1-14 (2021).