News
Jordan's displaced adolescents face difficult times
Published online 3 February 2022
Surveys have revealed the grave effects of the COVID-19 pandemic on the displaced and vulnerable young people in Jordan.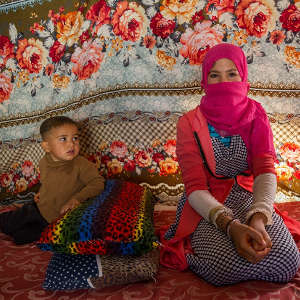 The pandemic has compounded the challenges facing displaced and vulnerable young people living in Jordan, according to a study conducted by international researchers, but support programmes can make a difference.
The struggles of young people in lockdown during the pandemic have been well documented, but little has been said about displaced populations. To address this, an international team of researchers analysed large quantitative surveys, conducted before and after the pandemic's onset, with more than 3,300 Syrian refugees, stateless Palestinians and vulnerable Jordanians living in Jordan in refugee camps, host communities, and informal tented settlements. This data was integrated with in-depth interviews of 178 adolescents between April and July 2020. 
The study found that Syrians living in host communities and informal tented settlements were more likely to face hunger during the pandemic than those in camps. Financial hardship, which became more difficult during the pandemic, led to more food insecurity and household stress: more than half (62.3%) of the households who regularly received aid from the Jordanian government or international organisations obtained less support. 
Furthermore, one in five adolescents presented with symptoms of moderate or severe depression. This incidence is lower than findings from other studies on youth in low- and middle-income countries; some Syrian refugees reflected that they had learned to cope with shocks because of the trauma caused by forced displacement.
"The most worrying aspect is the fact that symptoms of moderate to severe depression had only minimally eased nine months into the pandemic," says Nicola Jones, director of the Gender and Adolescence: Global Evidence (GAGE) programme, which follows the lives of 20,000 boys and girls in six low- and middle-income countries. 
Girls who were surveyed presented with higher levels of anxiety during the pandemic than boys: one in two unmarried girls experienced difficulties in accessing menstrual hygiene products, and house-bound married girls felt socially isolated. However, girls participating in Makani programmes – centres managed by UNICEF Jordan that provide access to education and digital support for vulnerable children and adolescents – were more likely to have a trusted friend than their peers.
"This study provides good evidence for policy-makers to support adolescent health and wellbeing, especially during pandemics and emergencies," says Yousef S. Khader of the Jordan University of Science and Technology, who was not involved in the study.
The team plans to collect more data to further explore the pandemic's legacy, its effects on learning, and the impact of Makani and other social assistance programmes. 
doi:10.1038/nmiddleeast.2022.3
---
Jones, N. et al. Compounding inequalities: Adolescent psychosocial wellbeing and resilience among refugee and host communities in Jordan during the COVID-19 pandemic. PLoS ONE https://doi.org/10.1371/journal.pone.0261773 (2022).