News
Transistors spot single SARS-CoV-2 spike proteins
Published online 2 June 2021
A new sensor, based on organic transistors, combines speed and accuracy in detecting single-molecule antigens belonging to the viruses that cause COVID-19 and MERS.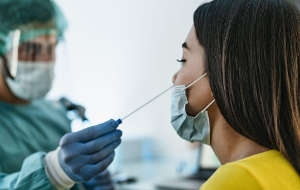 Efficient testing is a vital tool in fighting the COVID-19 pandemic, but currently there is a choice between tests that are fast or accurate. Polymerase chain reaction (PCR) tests accurately detect viral RNA, but must be sent to labs for analysis, while lateral flow tests can quickly detect viral proteins (antigens) on the spot, but are not very accurate.
Now, researchers at King Abdullah University of Science and Technology (KAUST) in Saudi Arabia have combined their expertise in electronics and biology to produce an organic electrochemical transistor (OECT) capable of detecting single-molecule COVID-19 and MERS viral antigens in bodily fluids, in just 15 minutes.
"OECTs have been used in various bioelectronic devices to record electrophysiological signals, monitor the integrity of cell cultures or lipid bilayers, and detect metabolites," says Sahika Inal, who leads KAUST's organic bioelectronics lab. Her team designed an OECT technology that can sense interactions between biomolecules and amplify the signals several million fold.
Working in the same lab as Stefan Arold's structural and synthetic biology group due to COVID restrictions, the teams realized they could combine their respective technologies. Arold's group had engineered nanobodies that can recognize SARS-CoV-2 spike proteins.
The teams fixed SARS-CoV-2-sensing nanobodies on an OECT device at extremely high density and in a defined orientation, enabling it to detect single virus particles. 
They have now begun work with industry partners on prototype devices to be produced on a large scale. Once rolled out to medical practitioners, they will enable rapid, accurate testing – and not just for COVID antigens.
"We can repurpose our sensor to detect other biomolecular targets by simply changing the nanobodies. This gives us a great choice of biomedical and diagnostic applications," says Arold. "Our hope is that this fast, cheap and easy to use sensor technology can complement or supplant many diagnostic devices in the future."
doi:10.1038/nmiddleeast.2021.52
---
Guo, K. et al. Rapid single-molecule detection of COVID-19 and MERS antigens via nanobody-functionalized organic electrochemical transistors. Nat. Biomed. Eng. https://doi.org/10.1038/s41551-021-00734-9 (2021).