News
COVID-19 significantly disrupts childhood cancer care
Published online 11 March 2021
The long-term impacts of the pandemic on childhood cancer outcomes are not yet clear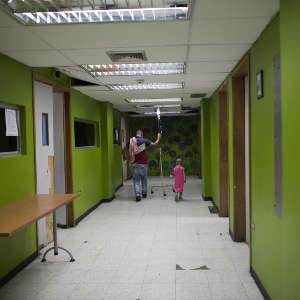 The COVID-19 pandemic has had major and wide-ranging impacts on childhood cancer care worldwide, affecting more than three-quarters of surveyed hospitals, the first global study of its kind reveals.
The study's corresponding author, Daniel C. Moreira of St. Jude Children's Research Hospital, says that, while the full impact on the survival of children with cancer remains unknown, the research identifies worrisome effects. "The findings highlight the need to support vulnerable populations in healthcare [provision] during this pandemic and other health emergencies," he says.
While deaths due to COVID-19 have reportedly been low among children with cancer, changes in care provision to accommodate for hospital preparedness and responses to the pandemic have delayed or interrupted cancer care delivery for children. The impacts were largely independent of the number of COVID-19 cases in individual hospitals or nationally.
A worldwide cross-sectional survey covering a two-month period in mid-2020 was distributed to paediatric oncology providers to assess hospital characteristics, the number of patients diagnosed with COVID-19, disruptions and adaptions to paediatric cancer care, and resource availability. 
Responses from 213 hospitals in 79 countries, including 13 from the Arab region, reported considerable disruptions to cancer diagnosis and management. Nearly half of hospitals made fewer cancer diagnoses than expected, while one-third noted an increase in the number of patients whose therapy did not begin or was delayed by four weeks or longer, known as treatment abandonment. 
Most hospitals (79 percent) noted a reduction in surgery, and more than half reported modified chemotherapy and shortages of blood products and treatment agents. Reductions in financial support, clinical staff and paediatric cancer bed availability were also experienced. 
At some point during the pandemic, nearly one in ten hospitals, the vast majority in low- and middle-income countries, had to close their paediatric cancer unit completely, with an average closure time of ten days. 
The study found that hospitals in low- and middle-income countries were disproportionately affected, with frequent reports of chemotherapy unavailability, treatment abandonment and disrupted radiotherapy.
This "would be expected, based on the inherent fragility of the healthcare system structure and delivery in these countries," says Raya Saab, acting director of the Children's Cancer Institute at the American University of Beirut Medical Center, who was not involved in the study. 
Saab says a follow-up survey is important to understand how paediatric cancer care delivery adapted and evolved with the persistence of the pandemic beyond the first year. "Such studies are essential to learn from our current experience and set guidelines for future pandemic preparations, to minimize essential treatment interruptions for serious but potentially curable childhood illness like cancer," she says. 
doi:10.1038/nmiddleeast.2021.24
---