Features
Egypt's reef economy under threat
Published online 17 January 2020
Egypt's coral reef economy could be hit hard through climate change and local mismanagement.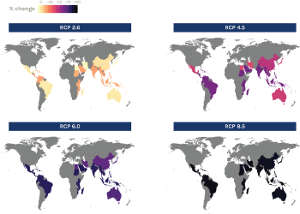 By 2100, Egypt could be losing US$5.6 billion in revenue1  compared to 2019 under the starkest climate projections, according to findings2  from the High Level Panel for a Sustainable Ocean Economy presented at COP25 in Madrid last December. 
The panel estimates that Egypt, the world's largest reef tourism economy, currently generates about US$7 billion a year from diving and snorkelling-related activities. 
Worldwide, the reef tourism industry brings in US$35.8 billion annually3, with Egypt, Indonesia, Mexico, Thailand and Australia fetching the highest revenues. Collectively, these countries could face 72 to 87 percent coral cover loss, and give up 90% of the value derived from activities strictly linked to coral reefs, such as diving, snorkelling and glass-bottom boating, by 2100. This bleak scenario would be the result of combined ocean warming and acidification under the warmest climate projections considered in the paper.
Even if robust climate action to cut greenhouse gas emissions is taken, coral cover is still expected to shrink up to 28 percent globally, resulting in economic losses up to six percent, the report warns.
Globally, coral reefs face climate change-induced threats compounded with unsustainable practices at the local level. 
In Egypt, experts see the latter as more destructive. Red Sea corals are expected to be more adaptable to the assaults of warming water temperatures and increasing acidification compared to other corals on the planet, according to marine biologist Mahmoud Hanafy of Egypt's Suez Canal University. "However, overfishing and skyrocketing numbers of scuba divers visiting the region are taking a toll on the health of this ecosystem," he says. 
Throughout the 1990s, the Egyptian tourism industry ramped up visitor numbers on the Red Sea's 1,000 kilometre coastline, without ensuring sustainable practices. This resulted in excessive use and damaged many, once pristine, diving locations. Another hazard in that period was the dumping of sediments from building marina jetties. 
In 1997, the Hurghada Environmental Protection and Conservation Association (HEPCA) established a network of mooring buoys, improving the general well-being of the reefs by decreasing coral breakage from anchor dumping. 
A current concern is rising competition between industries keen to reap the benefits of the Red Sea's ecosystem, leading to overfishing and unsustainable coastal and beach infrastructure and utilities, threatening reef welfare. 
The picture isn't entirely bleak. In 2019, Egypt began to implement the Green Fins initiative run by the Reef-World Foundation in partnership with the UN Environment Programme. It aims to strengthen sustainability within the marine tourism sector by identifying and reducing tourism-related threats. Within the first year of implementation in Egypt, the initiative plans to reach 30 marine tourism operators, train 150 dive guides and raise awareness on sustainability and best practices among 30,000 tourists4 .
doi:10.1038/nmiddleeast.2020.6
---