News
Red Sea corals will stand the test of time
Published online 19 November 2017
Robust corals in the northern region could outlive the rest of the population by a century.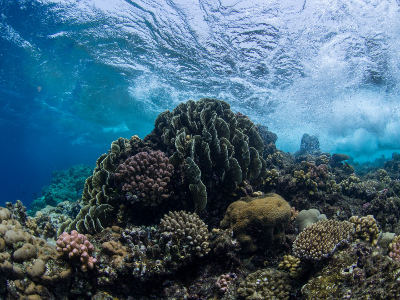 Despite warming temperatures and destructive human practices, the Red Sea may be able to sustain its robust coral population in the north for another 100 to 150 years, according to new research in Global Change Biology.1
Scientists from the King Abdullah University of Science and Technology (KAUST), Saudi Arabia, the University of Essex, UK, and Al-Azhar University, Egypt, believe that the northern part of the Red Sea and its stretch of 1,800-kilometer coastline could become one of the world's largest coral refuge. 
"All corals located north of the 24th parallel north in the Red Sea are way below their thermal temperature threshold," explains Christian Voolstra, co-author of the study and marine biologist at KAUST. 
Scientists had previously singled out the Gulf of Aqaba as a safe haven for corals, but this study extends the refuge's geographical scope dramatically. "We are not talking about small pockets of healthy corals," says Voolstra, "we are talking about roughly 2000-km of coastline."
The north area of the Red Sea is where the surface water temperature is the coolest, and while heat-tolerant corals exist across the Red Sea, the population located further south is alarmingly close to tipping point. "Bleaching usually occurs at 1°C over the summer mean average temperature," says Voolstra. But in the cooler waters of the north, corals enjoy a 5°C margin. 
To reach these conclusions, the scientists first investigated patterns of coral heat sensitivity in relation to ambient temperatures across the Red Sea, as well as compiling a dataset of coral bleaching since 1982 to identify the key areas least susceptible to thermal stress. 
They contrasted the thermal histories of Hurghada in Egypt and Thuwal in Saudi Arabia with their respective bleaching patterns, and by observing the impacts of the 2015-2016 El Niño events on corals from both areas, concluded that northern corals' susceptibility to spikes in water temperature was much lower in the Red Sea. 
"This anomaly, which is only found in the Red Sea, gives us a window of opportunity to take action," he says. He adds that local solutions, as well as collaboration between Egypt, Jordan, Israel and Saudi Arabia were necessary to protect this unique ecosystem. 
In addition to threats from pollution and coastal development, infrastructure projects such as the planned bridge linking Saudi Arabia to Egypt could further unsettle this ecosystem. 
Ameer Abdulla, a senior research fellow at the Center of Biodiversity and Conservation Sciences at the University of Queensland in Australia, who was not involved in the study, believes that these findings reinforce the global conservation importance of this zone as, what he refers to, a regional genetic seed bank. 
"However, the resilience of the corals will be greatly influenced by local external conditions such as oceanography and human impacts," says Abdulla. 
doi:10.1038/nmiddleeast.2017.157
---