News
Syria reports first COVID-19 case
Published online 25 March 2020
Syria has confirmed its first case of COVID-19 sparking new concerns for a country with a crumbling healthcare system.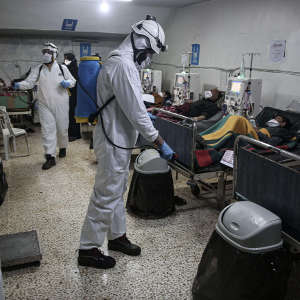 Syria's first reported case of COVID-19 is raising fears that the virus could further devastate a country where hundreds of thousands are estimated to have died in the protracted war. 
A Syrian American doctor, Zaher Sahloul, president of MedGlobal, an organisation that provides healthcare to refugees in disaster zones, says it is likely that COVID-19 is already widespread across the country; a claim officials have denied. 
Of particular concern is the northwestern Idlib region, the last rebel stronghold and focus of a Russian-backed Syrian government offensive over the last few months. Millions of people have been displaced and now live in crowded refugee camps lacking access to safe water, and other basic essentials. 
Maram Al-Sheikh, a surgeon and the minister of health for the Syrian interim government in Idlib, is concerned about how people will protect themselves from the virus in camps set up for internally displaced persons (IDPs). 
"Self-isolation will not be possible in these camps," he says. "Also, protective equipment is limited and there are no testing kits."
Sahloul echoes these concerns: "The death toll in the camps will be catastrophic due to overcrowding and the inability to enforce social distancing, hand washing and self-isolation." 
The World Health Organization says test kits were due to arrive in the region any day. 
Syria's healthcare facilities have been decimated by years of war and hundreds of health professionals have been killed, stoking fear that, when the virus spreads, there will be a lack of adequate care. 
"There is a huge shortage of doctors and nurses due to the war," says Sahloul. "The intensive care units in particular will have serious problems related to a lack of technology, qualified critical care specialists and a lack of proper infectious control measures. Most patients with severe COVID-19 requiring intensive care will end up dying."
Meanwhile, the Syrian government in Damascus has banned transport across the city and between various parts of the country, in addition to shutting down schools, parks, restaurants and other institutions. Border crossings with Lebanon and Jordan have been closed and commercial flights at Damascus International Airport have stopped. 
The UN special envoy for Syria, Geir Pedersen, has called for an immediate ceasefire across the country to enable an "all-out effort to supress COVID-19".
"To confront this danger, the long suffering Syrian people desperately need a sustained period of calm throughout the country that is respected by all parties," said Pedersen in a statement. 
His words echoed UN secretary-general António Guterres' call for a "global ceasefire in all corners of the world."  
doi:10.1038/nmiddleeast.2020.43
---