Research Highlights
Meteorite mineral surprise
Published online 21 December 2020
A mineral in a meteorite provides evidence of a parent asteroid of an unusual size and type.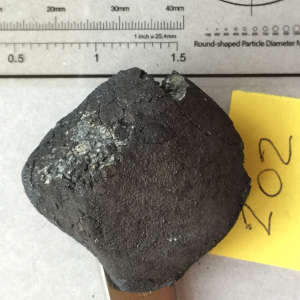 Analysing part of a meteorite recovered in the desert of Sudan suggests it has come from an asteroid that underwent previously unrecognised mineral formation processes.
"Our surprising result suggests the existence of a large, water-rich parent body," says Vicky Hamilton of the Southwest Research Institute in Boulder, Colorado, US.
The carbonaceous chondrite stone, a type believed to date from the earliest stages in the formation of the solar system, has been kept at the University of Khartoum since its discovery in 2008.
Hamilton and her colleagues in the US and Sudan acquired a fragment for analysis by infrared spectroscopy. Studying an intact slice revealed something that would have been otherwise hidden in a powdered sample. The researchers found clear evidence of the presence of the mineral tremolite, which had not previously been observed in such meteorites. The formation of tremolite would have required conditions only present in an unusually large asteroid, at least 640 kilometres in diameter, and possibly as large as 1,800 kilometres.
"Essentially, this mineral forms under conditions that these meteorites were not previously known to have experienced," says Hamilton.
Hamilton explains that the body that the meteorite came from will no longer exist, at least not in large form, but the evidence the meteorite provides could change our understanding of the materials that asteroids contributed towards the formation of the Earth and other planets. She says it supports the idea that asteroid materials arriving on the early Earth may have differed significantly from what is represented by most of our meteorite collections.
doi:10.1038/nmiddleeast.2020.131
---