News
A little addition to the family of planets
Published online 28 October 2019
New data indicate that one of the largest asteroids should be reclassified as a dwarf planet.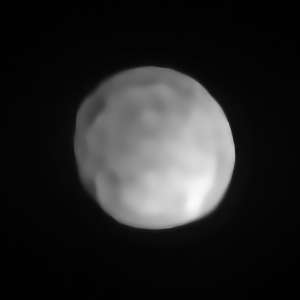 New images of the large asteroid Hygiea have given astronomers a better estimate of its size and shape. The improved view led them to suggest that it be promoted to a dwarf planet – the smallest one in the Solar System.
Hygiea is the least well characterized of the four largest bodies in the asteroid belt. An international collaboration, which included a researcher at the Oukaimeden Observatory in Morocco, analysed images produced by the SPHERE instrument on the Very Large Telescope in northern Chile to get a more precise view of several of the physical parameters of Hygiea. Their analysis revealed that Hygiea is roughly spherical, with a diameter of around 217 kilometres and a density of about 2000 kilograms per cubic metre. 
"Its density matches well with that of [the dwarf planet] Ceres," says Pierre Vernazza of Aix Marseille Université in France, who led the study. The team also found that Hygiea is topographically similar to Ceres, particularly in that they both lack evidence of large impact basins. "We weren't expecting such a shape, as we knew that Hygiea had suffered a giant impact," says Vernazza.
The researchers therefore used computational simulations to investigate the history of Hygiea in an effort to understand whether its round shape could in fact be a consequence of a large impact. The simulations showed that a collision at any angle with an object 75-150 km in size would have resulted in Hygiea finally settling into a spherical shape, with any pre-existing surface features erased. After the impact, the debris would have re-accumulated and behaved like a fluid for a period of time, naturally forming a roughly spherical shape as it rotated. According to the simulations, the entire process may have occurred in just four hours. 
Valerio Carruba, an astronomer at São Paulo State University who was not involved in the study, finds this "very interesting, because most asteroids are not spherical. Overall, there appear to be several similarities between Ceres and Hygiea, and they may have been implanted into the main belt during phases of planetary migration." Vernazza, too, believes that the similarities reinforce the notion of a common origin in the outer Solar System for both bodies.
Because Hygiea is spherical, orbits the Sun but has not cleared other objects from its orbit, and is not a satellite, the researchers suggest it be reclassified as a dwarf planet. Reflecting on this, Carruba remarks that it hints at the possibility of more objects from the outer Solar System being spherical and meeting the criteria for a dwarf planet. "The number of dwarf planets in our Solar System may be much larger than was previously thought," he says.
doi:10.1038/nmiddleeast.2019.145
---