News
A database of expertise: Online register for the world's women scientists
Published online 9 May 2019
A new database is making women scientists more accessible.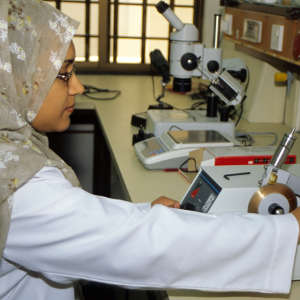 A global online register is striving to increase the proportion of women scientists in the public sphere. 
The Request a Woman Scientist platform was launched in 2018 to connect educational institutions, policy-makers, journalists and industry figures with women scientists across disciplines and geographical regions. In less than a year, it has grown to include more than 7,500 women from 174 scientific disciplines and 133 countries. About 115 women registered in the database work and study in 15 Arab countries.
A recent survey of women in the database found that, among 1,278 respondents, 11 per cent had been contacted since signing up. They were contacted for a variety of reasons, including interview requests from journalists, panel participation, peer reviews, and educational outreach. These engagements resulted in speaking opportunities at conferences and events, in addition to being quoted in the media.
Nature Middle East reached out to all the women affiliated with Arab countries in the database. Among the 22 percent who responded, only one had been previously contacted through the platform. But all are hopeful it will improve their visibility and connectivity to colleagues in their fields.  NME asked the women about the challenges they face in the Arab region and their ideas for solutions.
Saudi epidemiologist, Amani Alqahtani, signed up to the database to learn from senior scientists, particularly on how to face gender challenges in the industry.  
"In Saudi Arabia, we have many brilliant female scientists who are working very hard to get positions. In reality, it is much easier for men to get leadership positions regardless of their comparative skills and qualifications," she says.
"I'm hoping this will change and women will have equal opportunities to men. Women's empowerment is a hot topic in Saudi Arabia right now, but I believe it is still just a topic." 
The platform's founders are hoping to reach out to more women. "Our biggest hope for the future of the database is that it will become so widely known and used that it will be a bookmark on everyone's browsers," says neuroscientist, Elizabeth McCullagh, who co-leads the project.  
The database is run entirely by volunteers, but the founders hope to hire someone to improve enrolment from under-represented disciplines and geographical regions.
doi:10.1038/nmiddleeast.2019.68
---
McCullagh, E. A. et al. Request a woman scientist: A database for diversifying the public face of science. PLoS Biol. 17 (4), e3000212 (2019).