News
Arab women scientists rewarded
Published online 31 January 2012
Nine Arab women researchers have received research fellowships for their work to improve their communities through science research.
The winners of the second L'Oreal UNESCO Women in Science Pan Arab Fellowship hail from Lebanon, Sudan, Egypt, Tunisia, Yemen, Oman, Syria, Jordan and the Occupied Palestinian Territories. Each of them received an award of US$20,000 to help fund their research.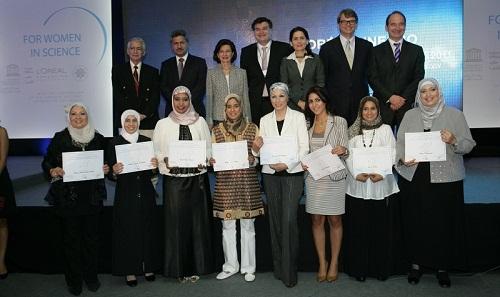 The jury received applications from 162 women from 17 Arab states this year. The fellowships recognize the contribution of researchers to their local communities and are aimed at exceptional young researchers.
For example, many children in Yemen are born with sickle cell disease, but the country lacks accurate data on the prevalence of the disease. "My research assesses the pregnancies of Yemeni women with sickle cell disease," says Anisa Albiti, a Yemeni-born hematologist at the King Abdelaziz Hospital in Jeddah, Saudi Arabia. "This will provide the evidence-based data essential for the government to allocate adequate resources to meet the medical and social needs of those women."
In the Occupied Palestinian Territories, Rula Abdul-Ghani, a molecular biologist at Al-Quds University in Jerusalem, is screening for biomarkers to detect drug-resistant cancers early.
Hind Abushama, a geneticist at the University of Khartoum is searching for genes that control the immune response to widespread infectious diseases in Sudan. "This could help provide better approaches to treat the complications of the disease schistosomiasis in Sudan," she says.
Obstacles
I like to believe that we will be free, and we will have high-quality research centres in Palestine and the Arab world.
Even though women enrollment in science universities often surpasses men in several Arab states, it is not easy for women to pick a science career in the region. "There is a perception in Arab communities that women have to put their families first," says Albiti, "Because of this societal pressure, women sometimes choose to give up their dreams in order to fulfill that role."
Abdul-Ghani says that the whole science community in the Palestinian Occupied Territories faces serious problems, not just women. "Society is suffering. The occupation oppresses everyone, male and female, young and old. "In Palestine, neither the government nor the private sector supports scientific research. What makes it worse is that there are few international grants that we can apply for," adds Abdul-Ghani.
Poor research infrastructure often hinders progress. Sudan spent 0.29% of GDP on research and development in 2007, similar to an average of 0.3% of GDP in Arab states in Northern Africa, but far below the global average of 2.2%. "The materials and equipments we use usually come from outside the country. It is common to wait 6 months for your order to arrive," says Abushama.
However, these challenges fail to dampen the recipiants enthusiasm for science. "I am fascinated by the ability to interpret aspects of a disease from the microscopic observation of cells," says Albiti.
"The logical progress of research is simply amazing," adds Abdul-Ghani.
Future plans
Each of the fellows hopes that research will help improve their communities. Abushama wishes to have a hand in developing education and raising public-health awareness in Sudan while Albiti wants to see high-quality haematology services in her home country of Yemen.
But for Abdul-Ghani, the future is bleak. "The political instability in Palestine, in particular, and in the whole region, certainly results in career instability and uncertainty about the future," she says. "I like to believe that we will be free, and we will have high-quality research centres in Palestine and the Arab world where students will want to study for PhDs, and continue onto postdocs.
"I honestly have no idea what I will be doing 10 years from now, but I want a world class cancer research centre in Palestine one day and will certainly continue teaching along with my research."
doi:10.1038/nmiddleeast.2012.11
---