News
Disappearing darkness means dim prospects for biodiversity
Published online 21 February 2019
The glow of artificial light at night is extending into the world's Key Biodiversity Areas and the Middle East is one of the most affected regions.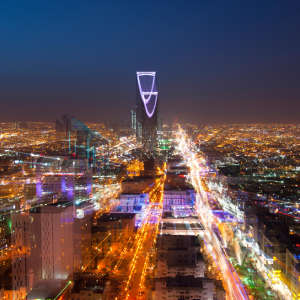 Earth's wildlife has evolved to make use of the dark of night for hunting, hiding or sleeping. Our rapidly expanding cities and transportation networks are shrinking the areas that experience true darkness at night, with potentially dire ramifications for all living things. Even the smallest shift in the amount of artificial light at night can affect gene expression, hormones, circadian rhythms and predator-prey behaviour.
Now, scientists from the UK have shown that this 'skyglow' from major urban centres is reaching over two-thirds of the world's designated Key Biodiversity Areas (KBAs). The Middle East is one of the worst affected regions, with 46 per cent of the region's KBAs experiencing light pollution across their entire night sky. 
"Light from cities is scattered by water, dust and gas molecules in the atmosphere," says Jo Garrett at the University of Exeter, who analysed the latest global skyglow data with colleague Kevin Gaston, and Paul Donald at Birdlife International in Cambridge. "This scattering extends over long distances and causes partial to complete brightening of skies even in remote areas."
KBAs cover terrestrial, marine and freshwater areas that are considered crucial for both resident and migratory wildlife and plant populations to thrive. Currently, there are 463 designated KBAs in the Middle East, the largest of which is Rub' al Khali or the 'Empty Quarter' in the Arabian Peninsula.  
"Many KBAs in the Middle East represent desert ecosystems where most mammals are nocturnal," says zoologist Abdulaziz Alagaili of King Saud University, Saudi Arabia. "To give an example: small mammals reduce their night activity to zero at full moon to avoid predators, thus their predators also reduce their activity in response. If their night sky is artificially brightened, it has a serious knock-on effect on their biological clocks, their behaviour and their future habitat choices." 
Marine species are also at risk. Many corals, for example, use moonlight levels as a trigger for reproduction. Certain bird species use seasonal differences in light patterns to determine when they should migrate. 
"To reduce skyglow, lights can be dimmed and shielded to reduce light travelling in unwanted directions, and lighting restricted to where and when it is needed," says Garrett. "Of course, any proposed changes to urban lighting requires careful consideration of social, economic and cultural factors."
"We always suggest dimmed lights and the use of motion sensors, but I have yet to see urban planners taking this into account here," notes Alagaili.
doi:10.1038/nmiddleeast.2019.24
---
Garrett, J.K., Donald, P.F., & Gaston, K.J. Skyglow extends into the world's Key Biodiversity Areas. Anim. Conserv. http://dx.doi.org/10.1111/acv.12480 (2019).