News
Rare disease reveals new role for immune-related enzyme
Published online 29 November 2019
An unusual combination of two diseases identifies molecular pathways widely involved in immunity and tissue structure.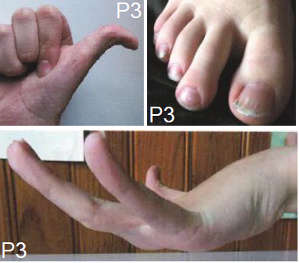 Genetic analyses of three related patients with a rare combination of two diseases have revealed insights into molecular signalling pathways that maintain a healthy immune system and build connective tissues.
The results come from a large international research team, including scientists at Sidra Medicine and Hamad Bin Khalifa University, both in Doha, Qatar.
The patients have an immune deficiency disorder called chronic mucocutaneous candidiasis, which leads to chronic infections of the body's mucous membranes, skin and nails by the fungus Candida albicans. They also suffered from a disorder of connective tissue, a key tissue type that provides support and cohesion for other tissues and organs in the body. This was an unusual link, because patients with chronic mucocutaneous candidiasis generally don't suffer from connective tissue disorders and vice versa. 
"Our challenge was to crack the genetic defect responsible [for this unique combination]," says Anne Puel of the French Institute of Health and Medical Research (Inserm), who studies the genetics of infectious diseases.
The researchers identified a mutation that stopped the normal functioning of a gene called MAPK8. This gene codes for an enzyme called JNK1, which is involved in several molecular signalling pathways, including those required for a healthy immune response. The new evidence also linked impaired JNK1 activity to the connective tissue problems in the patients, indicating a previously unknown and wider significance of JNK1 and the signalling pathways it is involved in for healthy immunity and connective tissue.
Some other genes and proteins involved in the affected pathways were also identified, particularly two proteins called interleukins and a common protein growth factor.
These insights from the three patients improve understanding of how different crucial molecular signalling systems interact to promote good health. 
Puel says that further work will explore the wider implications of the current study. This will hopefully improve diagnosis and genetic counselling opportunities and pave the way towards new treatments for immune deficiencies and connective tissue disorders.
doi:10.1038/nmiddleeast.2019.157
---
Li, J. et al. Chronic mucocutaneous candidiasis and connective tissue disorder in humans with impaired JNK1-dependent responses to IL-17A/F and TGF-ß. Sci. Immunol. 4, eaax7965 (2019).