News
Leprosy rates fall in Morocco 
Published online 20 December 2018
The number of new leprosy cases in Morocco has dropped significantly since the introduction of a preventative measure in 2012.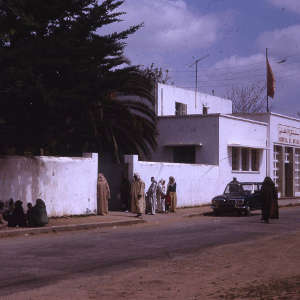 Administering a single dose of the antibiotic rifampicin to those in regular contact with people with leprosy is effective for reducing the incidence of the disease, according to a study conducted by the Ministry of Health of Morocco, together with scientists at Mohamed V University in Rabat.
Leprosy is an age-old chronic infectious disease caused by bacteria. If left untreated, it causes permanent damage to peripheral nerves and mucosal surfaces of the upper respiratory tract and eyes, leading to life-changing disabilities. 
Leprosy has ceased to be a public health problem (defined as a registered prevalence of more than one case per 10,000 population) following the provision of multidrug therapy by the World Health Organisation (WHO) in 1981. However, over 200,000 new cases are detected every year worldwide, underscoring the need to interrupt transmission and prevent infection in order to eradicate the disease globally.
In 2012, Morocco's Ministry of Health introduced the administration of rifampicin as a chemoprophylactic for adults and children over two who are in regular contact with people who have leprosy. Ibtissam Khoudri at the Ministry of Health, Rabat, and colleagues conducted one of the first nationwide studies to determine whether this approach is actually reducing the disease burden.
Leprosy rates fell by 4% annually between 2000 and 2012. This increased to 16% annual reductions after 2012. 
"We found that rifampicin reduces leprosy transmission among high-risk groups. This can accelerate the elimination of leprosy in the country and contribute to our goal of zero leprosy cases by 2030," Khoudri says.
Although the study can't prove a causal relationship between the administration of the drug and a reduction in the appearance of new leprosy cases, it strongly indicates that chemoprophylaxis is having an impact.  
Peter Hotez, dean of the National School of Tropical Medicine at Baylor College of Medicine in Houston, USA, who was not involved in the study, highlights the importance of collating national-level data to support the implementation of leprosy chemoprophylaxis.  "This study is an important step and suggests that the approach is working in Morocco and could be relevant to the rest of the Middle East and North Africa region," he says.
In the coming years it will be equally important to monitor the potential emergence of drug resistance and to guard confidentiality due to the stigma that is still associated with leprosy, which causes patients much psychological and physical distress.
doi:10.1038/nmiddleeast.2018.162
---
Khoudri, I. et al. Trend analysis of leprosy in Morocco between 2000 and 2017: Evidence on the single dose rifampicin chemoprophylaxis. PLOS Negl. Trop. Dis. 12, e0006910 (2018).