Features
Syria's crumbling healthcare system
Published online 18 June 2014
As the impact of war brings terrible injury and disease, Syria's few remaining medical workers are battling against the odds to care for a desperate population.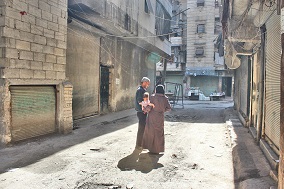 A bullet-marked ambulance screeched to a halt outside a hospital in Aleppo – its siren wailing piercingly. Two people jumped out and opened the back door, pulling out two bloodied children, no older than eight and victims of a nearby airstrike. As the patients were rushed in, relatives remained outside the hospital, holding each other tightly. Tears streamed down the face of the mother of one of the injured as she clutched the tattered clothes of her child.

The mother of the other injured child was already undergoing surgery after also being hurt in the strike. 

Like most other patients here and at other hospitals, the children were being delivered by volunteers who have undergone rudimentary hands-on medical training to help the medical system deal with the overwhelming tide of war casualties.

Inside the hospital, sandbags have replaced windows, and medical students, teenagers and defected soldiers were scurrying around helping patients. Radios have replaced mobile phones as the only safe form of communication between members of the medical staff who are usually targets of attacks. 

In one corner, an older man lies on a stretcher in agony as a teenage boy, dressed in medical scrubs and green sandals, bandaged his broken leg. He screamed obscenities as friends looked on helplessly. The sixteen-year-old went from being a normal schoolboy to a medical assistant.

His family has fled to Turkey but he decided to stay in Aleppo: "I want to be like the older doctors – helping and treating people here," he says. "My father calls me every day to make sure I am safe."
A crumbling healthcare system
Over the last three years, Syria's civil war has all but destroyed the country's healthcare system. Scores of doctors, nurses, dentists, pharmacists and paramedics have been killed, or fled to neighbouring countries, leaving a large gap in expertise and experience. Of the 6,000 doctors once practicing in Aleppo – the largest city in Syria with a pre-war population of 2.5 million – only 33 remain, local doctors estimate. 

Of those that are filling the void, many are uncertified. Some were students of medicine before the war, but others were majoring in law or engineering.
I have no choice but to stay. There's so few of us left. It's my country, my city, how can I leave?
There used to be 4,800 pharmacists practicing in Aleppo, but only two remain, hospital staff say. And only a few dentists out of the 1,500 remained. 
Doctors working in Aleppo are so fearful of reprisals for helping the rebels that they use false names, while many hospitals have been moved to new locations to protect them from attacks. No photos of doctors' faces are displayed outside the hospitals.
The fear and caution are warranted; according to a May report by Physicians for Human Rights (PHR), there have been 150 attacks on 124 different medical facilities throughout Syria between March 2011 and March 2014. The report says that 90% of these attacks were carried out by Syrian government forces.
While barrel bombs have flattened many of the hospitals in Aleppo and surrounding countryside. Others have been abandoned merely because of the lack of medical staff. 
"My wife always thinks that [when I visit her in Turkey] it will be the last time I see her," one surgeon says as he looks out the window to the demolished building next door. "She could be right. We just don't know."
At one hospital, debris is scattered across the top floor, remnants of a recent barrel bomb. Shattered glass blankets the floor of a former ward, while the door hangs off its hinges. 
"For the last three months, because of the barrel bombs, we have been focused on war trauma," one doctor at the hospital, who cannot be named for security reasons, says. "The operation room must be ready for anything. We're doing all sorts of operations we have never done before and just pray for the best."
The ICU has four beds, but no ventilator and just a few months ago, there were 20 doctors, now there are only a few. The hospital itself has 25 beds and its blood supply is desperately short. 
Back at the hospital where the two children were taken after the airstrike, Mohammed, a surgeon who operated on one of them, says every day is the same. "Some days I perform 13 operations. I have no choice but to stay. There's so few of us left. It's my country, my city, how can I leave?"
Mohammed has moved his family to Lebanon to keep them safe. "I see my family every two months. It's hard but I must do this work. If the regime finds us here, they will kill us all."
Some of the few remaining doctors in Aleppo are frustrated that many of their colleagues have fled. "It is not my place to judge the doctors who have left, but how can they leave? People here are struggling, dying. It is shameful to leave," one of Aleppo's last remaining dentists says.
"I might not do the most important job, but I'm not leaving my city. If a pregnant woman comes in with an abscess, then she needs urgent treatment," he says.
Lack of supplies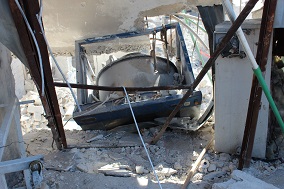 The scarcity of medical supplies is a major obstacle in providing healthcare in Aleppo. In a badly lit, dilapidated factory in east Aleppo, biochemist Abdul – who wanted to hide his full name – packs boxes with medical supplies to be delivered to the city's remaining hospitals. 

"All the diseases you can imagine are here – tuberculosis, leishmaniasis, polio," he says, adding there had been an outbreak of gastroenteritis after water supplies for the city were cut off for 10 days. Medical supplies are often smuggled across the Turkish border, an arduous and risky task.

"We have a severe shortage of medicine. The aid organizations cover 20% of what is needed here. We do not have enough insulin or anesthesia. We can't buy anesthesia from other countries without permission of the government. Turkey is the only country that has helped us."
Diseases rampant
An outbreak of polio in Syria after 14 years of being polio free has set off alarm bells across the international medical community. Children and babies should be vaccinated, not just for polio, doctors say, but against a myriad of other diseases., including tuberculosis, hepatitis, tetanus, rubella, measles and mumps and typhoid. 

"We need a complete programme and that's just not happening," a doctor working on the polio vaccination campaign says.

Doctors are also concerned about the rising number of tuberculosis cases. They estimate that more than 400 people in Aleppo have the disease and are without treatment.

In addition to obvious physical diseases, there is a largely forgotten population of people suffering from mental illness. There are no psychiatric drugs available in Aleppo, Abdul says, and the only centre equipped to receive patients is in Azaz city, some 30 kilometres away from Aleppo, close to the Turkish border.

With no end in sight to the horror of the war, the medical workers here are united in their commitment to fight this battle until the very end.
doi:10.1038/nmiddleeast.2014.153
---