News
Ray of light for alternative energy future in Saudi Arabia
Published online 12 May 2014
A new solar-power research facility in Saudi Arabia will spearhead the kingdom's shift to alternative energy sources.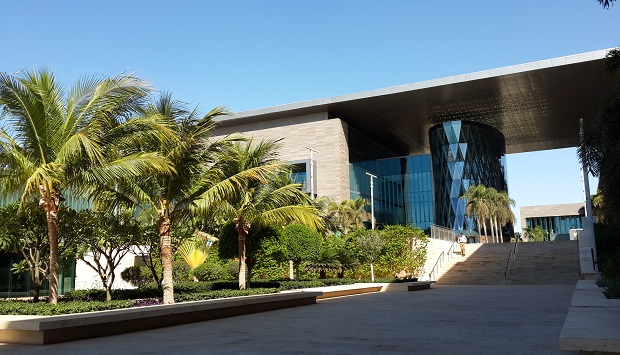 The King Abdullah University of Science and Technology has opened a new research centre focused on solar energy at which around 50 researchers are working on solutions for Saudi Arabia's planned shift away from fossil-fuel dependence.
The centre, the Solar & Photovoltaic Energy Research Centre (SPERC), will be directed by Karl Leo, who said his research team aimed to be among the global leaders in the field.
Demand for energy in Saudi Arabia is expected to double over the next ten years amid a changing global energy environment. Replacing oil and gas — which currently meet the majority of Saudi Arabia's energy needs — is a significant strategic goal for the Kingdom, which aims to generate 10% of its electricity consumption from solar power by 2020.
Research at SPERC is mainly concentrated on emerging photovoltaic technologies, such as thin-film photovoltaics and quantum dots, and generous funding and access to excellent facilities at KAUST could help the researchers make worthwhile contributions to this branch of solar research.
"The SPERC faculty are publishing many papers which will help the local and international community to understand and develop solar technologies," says Abdulaziz Baras, a researcher at the King Abdullah City for Atomic and Renewable Energy.
To translate its findings into technology, the centre cooperates with industry partners. "There's a feeling that things are moving quickly now and very soon solar [energy] will play an important role [in Saudi Arabia]," says Leo.
SPERC also takes advantage of the spin-off programme at KAUST to help bring technologies to market. A promising example is NOMADD, a system to clean dust off solar modules, a perennial issue in desert environments. Traditional cleaning methods are labour-intensive and require large amounts of water, while NOMADD is a robotic solution which uses brushes and doesn't need water.
Through its outreach initiatives, from consultations with the Saudi government to educational visits for high-school students, SPERC hopes to raise awareness of the benefits of alternative energy in the kingdom. Staff plans to host a scientific conference every autumn, bringing together international researchers to discuss advances in the field. This year's conference will focus on emerging photovoltaics.
doi:10.1038/nmiddleeast.2014.116
---