News
Looking into ancient sealed Egyptian coffins
Published online 20 April 2023
A non-invasive imaging technique allows researchers to peer inside six sealed metal animal coffins.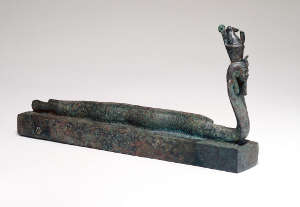 Researchers at the British Museum in London have used a non-invasive imaging technique, called neutron tomography, to examine the contents of six sealed, ancient Egyptian animal coffins made from copper compounds.
Their findings, published in Scientific Reports, show that the technique is effective for studying mummified remains within metal containers, and link the animals depicted on the lids of the boxes to the remains hidden inside them.  
The ancient Egyptians mummified numerous animal species, including birds, cats and reptiles, placing their remains in boxes made of wood, limestone, and copper alloys, as embodiments of, or offerings to, the gods.
Previous studies used X-ray imaging to examine the contents of animal coffins. Metals and other dense materials absorb X-rays, however, obscuring the images produced. Neutron tomography overcomes this, and is particularly useful for imaging organic material, but is currently limited to imaging objects less than about 20cm wide. 
Daniel O'Flynn and his colleagues used the method to image six animal coffins thought to date from 664 to 250 BCE, which were discovered in the Nile Delta in the late 19th century and are now held at the British Museum. All six are topped with carved figures of eels, lizards, or part-eel, part-cobra figures with human heads and, rarely for such artefacts, remain sealed by plaster plugs.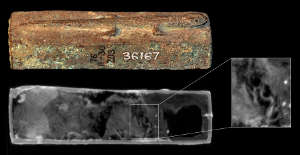 They identified lizard bones in three of the coffins, an intact lizard skull in one, and three contain fragments of wrappings made from what is likely to be linen. Three also contain large amounts of lead, which, the authors say, may have been added to counterbalance the boxes, and also appears to have been used for repairs.  
According to Salima Ikram, of the American University in Cairo, many metal coffins for animal mummies have been discovered, but "surprisingly limited scientific work has been carried out on their manufacture."
"This is an excellent analysis of six different types of coffins," says Ikram. "Neutron tomography allows for the non-destructive study of the objects and has provided insights into their contents in terms of the lead, as well as confirmation that the contents often reflected the animal depicted on the lid." 
O'Flynn and his colleagues have no immediate plans to follow up their findings, but would like to use neutron tomography to image more of the sealed metal containers held at the British Museum, which they suspect may also contain animal remains. 
"It would be fantastic to see researchers apply this technique on coffins housed in other museums, to further our collective knowledge on this fascinating aspect of animal mummification," he says. 
doi:10.1038/nmiddleeast.2023.31
---