News
Interleukin receptor involved in TB susceptibility
Published online 15 February 2023
A study has found that a mutation in the gene that codes for the interleukin 23 receptor is associated with susceptibility to tuberculosis.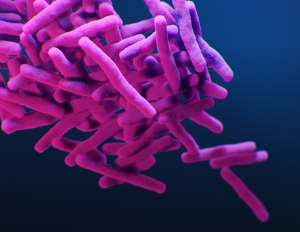 Scientists have identified an inherited mutation that leads to the loss of an immune receptor and plays a role in the complex susceptibility of some people to tuberculosis and fungal infection. 
Most people who become infected with Mycobacterium tuberculosis never get sick with the disease, which suggests that their immune systems can control and contain the infection. But a small number of people have an inherited susceptibility to mycobacterial infection, putting them at high risk not just for tuberculosis but also diseases caused by the fungal pathogen Candida and bacteria Salmonella. 
To explore some of the mechanisms of this susceptibility, an international team of researchers – including from Hamad Bin Khalifa University and Sidra Medicine in Doha, Qatar – screened around 15,000 people with a range of infectious diseases, including some with inherited risk of tuberculosis. 
They identified six people from four families who all had a similar genetic mutation affecting a gene that codes for the receptor for a protein called interleukin 23 (IL23), which regulates the activity of certain immune cells. All six were missing the IL23 receptor, and showed the clinical signs of susceptibility to tuberculosis. Two also had susceptibility to candidiasis – the infection caused by Candida.
IL23 plays an important role in activating two types of immune cells – T cells and natural killer cells – which in turn trigger the production of a chemical immune signalling protein, or cytokine, called interferon gamma. 
"Interferon gamma is the main cytokine - it's the critical cytokine - to protect against mycobacterium disease," says Anna Puel, from the Institut National de la Santé et de la Recherche Médicale in Paris, France. 
The study also revealed that the IL23 receptor deficiency affected the activity of another type of interleukin: IL17.
"IL17 is also important in protecting against superficial candidiasis," says Jacinta Bustamante, also from the Institut National de la Santé et de la Recherche Médicale.
The discovery raises the question of whether there are other genetic variants that are less severe and less rare, but still reduce the activity of IL23 receptor enough to increase the risk of tuberculosis.
Jyothi Rengarajan, from the Division of Infectious Diseases at Emory University School of Medicine in Atlanta, United States, says it has long been a question of why some people are able to immunologically control Mycobacterium tuberculosis while others are not. 
"It's always nice to see a human genetic study support ideas that have been out there, because it's always very hard to find one particular gene or mutation that contributes to a complex multigenic disease like tuberculosis," she says.
doi:10.1038/nmiddleeast.2023.13
---
Philippot, Q. et al. Human IL-23 is essential for IFN-γ–dependent immunity to mycobacteria. Science Immunology 8, eabq5204 (2023).