News
Ancient whale fossil points to new species
Published online 28 October 2022
A half-complete fossil found in Morocco may represent a new genus of ancient whale.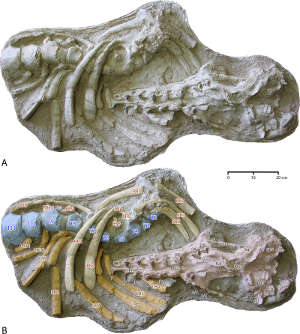 The first completely aquatic ancient whales were a family known as the basilosaurids, which are thought to have existed in the late Middle Eocene, around 41 to 34 million years ago.
Within that group is the sub-family of the Pachycetinae, who cruised the shallow coastal waters of what is now North Africa, Europe and North America.
The discovery of a new half-complete fossil in Morocco has led researchers, including from the Hassan II University of Casablanca in Morocco, to describe a new genus within that sub-family – called Antaecetus – with relatively large, heavily mineralised vertebrae that may have provided ballast to help it sink to the sea floor to feed.
"When we found it, we thought it was related somehow to Basilosaurus or the group of whales of this age that has larger vertebrae and larger bodies," says Philip Gingerich, from the University of Michigan in Ann Arbor. 
But closer examination of the vertebrae from this fossil, and other broken vertebrae at the site, revealed a much thicker outer layer of cortical bone. 
The first thought was that it was a species in the Pachycetus genus, within the sub-family of Pachycetinae. But this new fossil was smaller than a typical Pachycetus and the teeth were more delicate. These features led the research team to suggest it represented a new genus and species within the Pachycetinae sub-family, which they called Antaecetus aithai.
Gingerich speculates that the heavier, more mineralised vertebrae may have helped the creature to feed on the bottom of the coastal shallows.
Mark Uhen, from George Mason University in Fairfax, Virginia, who was not involved in the study, says the more complete fossil specimen does show enough difference from Pachycetus to qualify as a separate genus.
However, the fossil is missing part of its vertebral column, so the total number of vertebrae in the specimen is still unknown. 
The evolutionary trajectory of these early whales was towards longer vertebral columns and a greater number of vertebrae as they shifted into a more aquatic existence. "Basilosaurids have small legs with a small pelvis that was detached from the vertebral column, which means they couldn't walk, so they're clearly fully aquatic," says Uhen. 
Knowing the exact number of vertebrae in this new specimen would help map the taxonomic relationships between it and other members of the basilosaurid family. 
doi:10.1038/nmiddleeast.2022.68
---
Gingerich, P. et al. Skull and partial skeleton of a new pachycetine genus (Cetacea,  Basilosauridae) from the Aridal Formation, Bartonian middle Eocene, of southwestern Morocco. PLoS ONE 17, e0276110 (2022).