Research Highlights
The short but eventful life of the Higgs boson
Published online 24 October 2022
Measurements at the Large Hadron Collider suggest that the Higgs boson's lifetime matches the predictions of the Standard Model.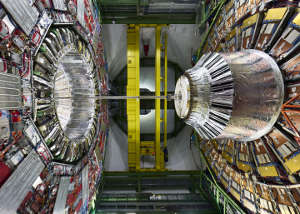 The Higgs boson remains an elusive beast. The eventual proof of its existence, in 2012, came 48 years after it was first predicted, and demanded the largest experiment ever conducted, the Large Hadron Collider (LHC) at CERN. Today, studies are ongoing to measure the Higgs's properties and confirm whether they match the predictions of our best theory, the Standard Model, or we need to invent new physics.
One key property is the Higgs's lifetime, which according to theory is just 1.6x10-22 seconds (160 billion-billion-billionths of a second) before it decays into other particles. Now, a precision measurement of the lifetime has been made by the CMS Collaboration, a community of more than 4,000 particle physicists from all over the world, including in Egypt, Qatar and Kuwait. They measured the lifetime to be 2.1x10-22 seconds, with error bands encompassing the theoretical value, meaning that the Standard Model remains valid for now.
The CMS Collaboration is named after the Compact Muon Solenoid, a particle detector on the LHC in which protons are smashed together to produce other particles including the Higgs. Because the Higgs's lifetime is so short, it does not travel a measurable distance within the CMS before decaying, so researchers have to infer measurements by observing its decay products. Most notable is a decay pathway where the Higgs produces a pair of Z bosons.
The observations of Z bosons revealed that they were produced by two different types of Higgs bosons – so-called 'on-shell' Higgs bosons with mass close to the nominal value (previously measured by CMS to great precision), and rarer 'off-shell' Higgs bosons with greater masses. This is due to a weird consequence of quantum physics, whereby the mass of an unstable particle like the Higgs can vary from its nominal value across a certain range, called the width.  
The researchers obtained an accurate value for the Higgs's width by measuring the ratio of Z boson production rates from off-shell and on-shell processes. Crucially, this allowed a calculation of the Higgs's lifetime, which is inversely proportional to the width.
As well as confirming that the Higgs's lifetime matches theory, this experiment provided the first proof of existence of off-shell Higgs bosons. These 'extra-massive' versions should prove useful tools for further investigating the Higgs' mysterious characteristics.
According to Greg Landsberg, chair of the CMS publication committee, such a complicated experiment would not have been possible without a large team of dedicated specialists. 
"Some take shifts, ensuring that the data we collect are of the highest quality, some contribute to the detector hardware, while some actually analyse the data and produce physics results that we publish," he says. "The role of Middle Eastern scientists in the CMS experiment operations is decisive and fundamentally important."
doi:10.1038/nmiddleeast.2022.66
---