Features
Renewable energy stagnates as fossil fuels dominate
Published online 23 June 2022
The stagnating transition to renewable energy makes it unlikely the world will meet key climate goals this decade.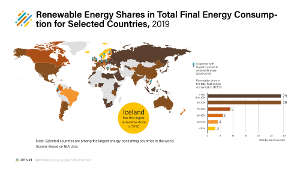 The transition to renewable energy has never been more pressing, as the global energy crisis deepens and billions are threatened with energy poverty. Yet, despite promises of a green recovery following the COVID-19 pandemic, a new report finds the world has missed a historic opportunity.
REN21's Renewables 2022 Global Status Report, which takes annual stock of renewable energy trends and perspectives worldwide, found "The global clean energy transition is not happening, making it unlikely the world will be able to meet critical climate goals this decade."
Rising energy consumption has outpaced the growth of renewables, despite record renewable investment and additions to renewable power capacity in 2021. Globally, the total share of renewables in the world's final energy consumption had only risen from 10.6% in 2009 to 11.7% in 2019. 
Many governments committed to net-zero greenhouse gas emissions in the lead-up to last year's COP26. But the report found that these commitments have not translated into action. Confronted with the largest energy crisis in modern history—which began in the second half of 2021 and was exacerbated by Russia's invasion of Ukraine, further underscoring the urgency of transitioning to renewable energy—most governments opted to provide subsidies for fossil fuel production and hiked fossil fuel use to try and mitigate the effects of the energy crisis. 
"We are faced with a historic choice. This choice means that, we need to decide where we put our money as economies and societies, and also as investors, households and companies,," says Rana Adib, executive director of REN21, a Paris-based think tank on renewable energy policy.
The picture in MENA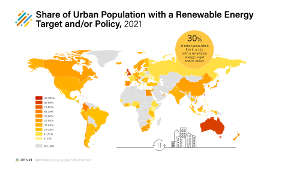 While there have been advancements towards renewables in the MENA region, progress is uneven. To date, sixteen countries in the region have renewable energy targets, and 14 countries and seven cities have net-zero emissions targets. 
Regionally, Morocco and Jordan are leaders in terms of renewable share in total final energy consumption, while Egypt and Morocco lead when it comes to renewable installed capacity. But even in countries that have emerged as regional leaders, significant gaps remain between ambition and action.
Egypt does not have a net-zero target, but has put in place a hydrogen strategy, pledged to ban coal-fired power generation and increased its rooftop photovoltaic target from 300 to 1,000 megawatts to meet its renewable energy targets. However, the report found renewables in Egypt are stagnating: between 2009 and 2019 the share of renewables in final energy demand has remained unchanged. 
Morocco also does not have a net-zero target, although the cities of Rabat, Chefchaouen and Benslimane have made their own net-zero pledges. To reach its renewable energy targets, Morocco has invested MAD 52.1 billion (USD 5.6 billion) in solar projects, with sales of solar thermal units growing 10% in 2021. Yet the report found Morocco's renewable energy share in final energy demand has also remained unchanged between 2009 and 2019.
Investment in renewables in the Middle East and Africa increased 19% in 2021 to USD 12.8 billion, and the two regions continue to grow for their concentrated solar power sector, which aims to concentrate the sun's energy using reflective devices, such as mirror panels, to produce heat that is used to generate electricity. In 2021, the Middle East and Africa added an estimated 5.2 gigawatts of solar power capacity, up 3%. Off-grid installations grew rapidly and rooftop photovoltaics outside of regulatory schemes have progressed in many countries. 
Although it boasts ample sunshine, the MENA region had the fewest countries meeting the milestone of covering 5% of their electricity demand with installed solar photovoltaics. By the end of 2021, Egypt and the United Arab Emirates, hosts of the next two United Nations climate summits, were at 3%. 
"MENA remains the region with the lowest share of renewable power in its generation mix despite having [among] the best solar and wind resources in the world. There is room for the gap to be narrowed between potential versus actual outcomes," says Li-Chen Sim, a non-resident scholar with the Washington D.C.-based Middle East Institute's economy and energy program.
The report warns the continued trend towards fossil fuels ignores the benefits and opportunities that the transition to renewables will bring, such as greater energy independence and security and more diversified and inclusive energy governance.
Across the MENA region, Sim says the single largest obstacle to renewable energy uptake is fossil fuel subsidies. "Renewable power is widely acknowledged as the cheapest form of electricity today, but fossil fuel subsidies distort the economic case for renewables. Fossil fuel subsidies encourage over- and wasteful consumption of hydrocarbons, misallocate public money that may be better spent on long-term productive investments like education and health, and contribute to environmental and health problems, among other issues," she says. "Many MENA countries have reduced fossil fuel subsidies, but some will be tempted to increase or reinstate them to tame social unrest in the face of current inflationary pressures from food and fuel price rises."
doi:10.1038/nmiddleeast.2022.35
---