News
Live event: Towards more sustainable Arab academic institutions
Published online 3 April 2022
Nature Middle East is hosting an illustrious panel of experts to discuss the future of Arab higher education institutions.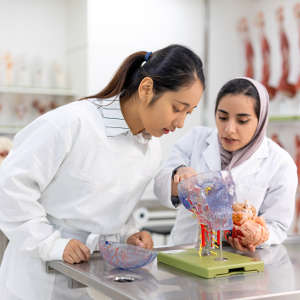 Many changes have been made to education in the Middle East, with states realizing they need to invest more to remain globally competitive. On Thursday, April 14, 2022, Nature Middle East is hosting a panel of experts to discuss the sustainability and future of educational institutions in the Arab world, with the aim of exploring the diversity of experiences in the region and proposing ways forward for more economically sustainable, independent and climate-friendly institutions.
Time: 20:00-21:30 Cairo local time / 19:00-20:30 British Summer Time
Panellists:
- Princess Sumaya bint El Hassan: President of the Royal Scientific Society, UNESCO Special Envoy for Science for Peace, and Chair of the Board of Trustees of Princess Sumaya University for Technology; Jordan 
- Dr Moustafa Badawy, Associate Professor and Director of The Valley of Science and Technology at Zewail City, Egypt
- Professor Dalila Loudyi, Department of Water and Environmental Engineering, Hassan II University of Casablanca and Morocco's National Contact Point in Environment 
- Mr Francisco Marmolejo, President of Higher Education at Qatar Foundation
The event will feature an introductory talk by HRH Princess Sumaya bint El Hassan on the issues she and colleagues raised in a recent Frontiers in Sustainability article titled "The (Un)sustainability of higher education institutions in Jordan". 
The panel will then go on to discuss the governance and finance structures of higher education institutions in the region, the challenges they face, how improvements can be made, and whether institutions are moving towards more eco-friendly practices.
Register for the event and post your questions to the panelists
doi:10.1038/nmiddleeast.2022.17
---