News
Bread wheat's wild relative could boost crop resilience
Published online 3 November 2021
Genomic analysis of a wild wheat species identifies a novel ancestor of bread wheat and highlights candidate genes for modern crop improvements.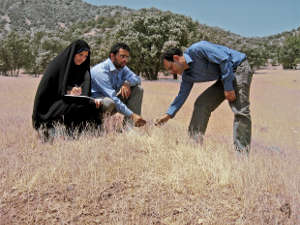 As the global population increases and the world faces the challenges of climate change, bread wheat yields must be sustainably increased to maintain global food security. Harnessing the genetic diversity of wild wheat species could be the answer to boosting the resistance of modern bread wheat to disease, pests and environmental changes. 
Now, the Open Wild Wheat Consortium, which involves researchers from 17 countries including Saudi Arabia and Egypt, have sequenced the DNA from 242 accessions of the wild wheat species Aegilops tauschii, collected over decades from across its native range from Turkey to Central Asia. The results provide unique insights into the evolutionary relationship between wild and domesticated wheat, and pinpoint wild wheat genes that could improve modern bread wheat crops. 
"The most exciting result is that we have identified a previously unknown ancestor of modern bread wheat: a distinct lineage of Aegilops tauschii now found only in Georgia, far from the fertile crescent where wheat was domesticated 10,000 years ago," says Brande Wulff at King Abdullah University of Science and Technology (KAUST) in Saudi Arabia, one of the study's corresponding authors. "This lineage boosted the ability of modern wheat to thrive in many different environments, as well as adding to the properties for making dough." The team believe this lineage may have once been widespread, but was geographically restricted by the end of the last Ice Age.
While the domestication of bread wheat increased yields and improved performance, it came at the cost of eroding genetic diversity for protective traits such as disease resistance and heat stress tolerance. The researchers found that only 25% of the genetic diversity found in wild wheat made it into modern bread wheat through natural hybridisations and human cultivation. This means that Aegilops tauschii constitutes 'a treasure trove' of genetic variants, notes Wulff, and there are multiple untapped genes that could be leveraged to improve crop resilience. 
"We therefore established a framework for fast-tracking useful traits from Aegilops tauschii into modern bread wheat," says Wulff.
The team used association mapping to identify many of these genes and the regions of the genome that control different traits. They then created a publicly available library of synthetic wheats that captures 70% of the diversity found in Aegilops tauschii, which they hope will provide a catalyst for many new studies. 
"To date, there is no other comparable resource available for a wild wheat combining germplasm and whole genome sequences at this scale," says Wulff. 
doi:10.1038/nmiddleeast.2021.86
---