News
Computing the human biological energy bill
Published online 23 August 2021
An international survey of human energy consumption reveals new insights into factors that shape metabolic activity throughout our lives.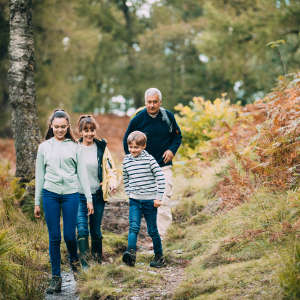 Life demands a lot of energy, but scientists have struggled to measure just how much energy humans consume over a lifetime. A recent study from the International Atomic Energy Agency's Doubly Labelled Water Database Consortium, which includes scientists in Morocco and the United Arab Emirates, has now established a detailed profile of thousands of individuals, chronicling how human metabolic activity shifts as we move from infancy to old age.
The consortium employed a technique initially developed in the 1980s, in which subjects consume water composed of distinctive isotopes of hydrogen and oxygen. By measuring the rate at which study subjects eliminate these two isotopes, scientists can determine how much carbon dioxide their bodies are producing over the course of a day; a direct indicator of energy consumption. Until recently, scientists struggled to apply this method to large numbers of subjects. "This technique was too expensive and specialized," says Duke University researcher, Herman Pontzer, one of the study's lead authors. The consortium was formed to overcome this problem by analysing pooled double-labelled water experiment data from more than 6,400 individuals ranging in age from eight days to 95 years in 29 countries around the world. 
Armed with this rich dataset, the scientists were able to validate some existing hypotheses about body mass and metabolism. For example, they confirmed that bulkier individuals with low body fat, such as athletes, burn the highest levels of energy overall. This is because fat is a medium for storing rather than consuming energy, whereas more muscle and other cell types will give rise to a higher metabolic rate.  
But there were also surprises, most notably regarding how energy use shifts over time. Pontzer notes that newborn energy consumption initially scales with that of adults, but skyrockets to 150% of the adult baseline relative to body mass within the following year. "No-one expected that degree or timing of metabolic rate increase," he says. Energy consumption then gradually reaches an equilibrium at age 20 that is maintained until age 60, when it again begins to decline. This was also unexpected, with menopause and the onset of middle age not appearing to have a meaningful impact on metabolic activity.
Pontzer believes this roadmap of metabolic changes over time could influence guidelines for age-specific nutrition and drug treatment recommendations, and guide future clinical research. "It's notable that the onset of age-related diseases coincides with the decline in metabolic rate at 60+ years," he says. "That suggests a target for therapies."
doi:10.1038/nmiddleeast.2021.72
---
Pontzer, H. et al. Daily energy expenditure through the human life course. Science 373, 808–812 (2021).