Features
Arab countries must nurture useful participants in Industry 4.0
Published online 25 June 2021
The desire to foster a science and innovation culture is held back by flawed education systems, and static investment in research.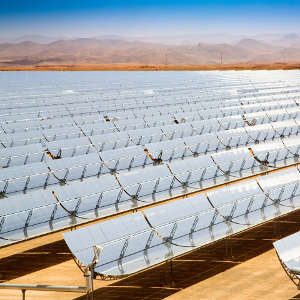 Arab countries witnessed a flurry of activity in recent years to accelerate progress towards knowledge societies and to foster sustainable development. Nevertheless, national education systems in most of these countries are not giving youth the requisite skills, while investment in research and development remains low, the UNESCO Science Report 2021 reveals.  
"This report highlights how much we're lagging behind, and the correlation between the upheaval in the region and a reduction in research. The instability has impacted science, technology and innovation," says Esra Aleisa, associate professor at Kuwait University's department of industrial and management systems  and co-author of the report's Arab States chapter.
Published every five years, the UNESCO Science Report maps science, technology and innovation governance around the world, and tracks countries' progress towards meeting the United Nations Sustainable Development Goals by looking at 56 research topics within the field of sustainability research.
Sustainable development agenda
Water scarcity, soil erosion, and environmental degradation pose serious challenges for countries across the region. In response, governments are embracing science-based solutions, such as vertical farming and desalination. Many countries have set ambitious targets for the development of renewable energy sources, and several have plans in the works for high-tech sustainable urban centres, similar to Masdar City in the United Arab Emirates.
Most countries have adopted digital agendas to modernise public services and foster innovation and entrepreneurship. Yet before countries can embrace the Fourth Industrial Revolution, also known as Industry 4.0, they will need to train a skilled workforce. 
The performance of Arab schoolchildren in international assessments suggests the education systems in the Arab states are not equipping youth with the requisite skills for the new knowledge economy, causing some countries to focus on skills training. "Our education systems are not aligned with this new reality," says Aleisa. 
Research trends
Despite a significant expansion in higher education over the last five years, the proportion of public funding allocated to research and development remains low. Government expenditure in research and development as a share of GDP is limited in all but the United Arab Emirates, Egypt and Jordan, and between 2015 and 2018, most countries reporting data saw a decline in their research and development investment levels. Consequently, Arab countries are largely not developing or exporting innovative technologies, and remain dependent on purchasing technology inputs from abroad. 
World-class researchers are in short supply in Arab countries. In 2018, of nearly 6,100 highly cited researchers globally, only 90 were based at universities in Arab countries — mostly in Saudi Arabia — and only six of those came from the region. While countries like Qatar, Saudi Arabia and the United Arab Emirates have opted to recruit top scientists from abroad, other countries are training more researchers, notably Egypt, Morocco and Tunisia. 
Across the region, research output is imbalanced, with Egypt and Saudi Arabia accounting for about half of all scientific publications produced by the Arab world. The focus of regional publications is also imbalanced, with more than half of 141 Arab journals specialising in medicine and healthcare. Since 2011, there has been greater research focus on sustainability in Arab countries, particularly on photovoltaics, smart-grid technology, and climate-adapted crops.
UNESCO's report calls for radical policy change across the region and notes that much more support for research and development is required than is being allocated given the serious challenges facing the region, such as water and food security, economic diversification, social cohesion and the disruptive transformations caused by the Fourth Industrial Revolution. 
Moneef Zou'bi, science advisor of the InterAction Council and co-founding director of the World Sustainability Forum, who also co-authored the Arab States chapter, says that government actions to combat youth unemployment have been palliative to date, and that realistic projects of tangible socio-economic benefit for the population should be encouraged. "Politics and the COVID-19 pandemic have derailed development in the region. New thinking is required to rise above the gathering storms," he adds.
doi:10.1038/nmiddleeast.2021.58
---