News
Quenching Jordan's thirsty future
Published online 12 April 2021
Ambitious interventions are needed to address Jordan's water shortages, but experts are cautious about what can realistically be done.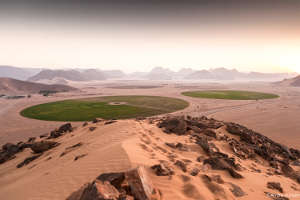 Without ambitious interventions and comprehensive reforms, severe and potentially destabilizing water shortages will become commonplace in Jordan by 2100, according to a new study by an international team, including a researcher at the Jordan University of Science and Technology. 
Lead study author, Jim Yoon, a water security and resilience scientist  at Pacific Northwest National Laboratory, USA, says the team was struck by the finding that no single mode of intervention is adequate for mitigating water security declines in Jordan. "However, we saw exponential benefits when supply and demand-side interventions were combined, arguing that Jordan needs to adopt a holistic approach that embraces both hard infrastructure and soft policy solutions."
The team used a computer model of Jordan's freshwater security to generate 20 plausible versions of the country's freshwater trajectory. They then evaluated the efficacy of various supply- and demand-side interventions in enhancing water security across a range of future climate, population and socioeconomic scenarios until the end of the century. 
Model results indicate that per capita water availability in Jordan will decrease by approximately half across all sectors by the end of the century due to a combination of dwindling water supplies and population growth. 
Disparities in water distribution were found to be a key factor in driving many Jordanian households into water insecure conditions. Without interventions, over 90 percent of low-income households in Jordan will experience critical water shortages by the end of the century, amounting to less than 40 litres of piped water per person per day . 
For comparison, average water consumption in the United Arab Emirates, among the highest in the world, is 500 litres per person per day, while in the United Kingdom it is 141 litres per person per day.  
In contrast, simultaneously implementing a sweeping set of infrastructure enhancements and policy measures, including reducing water theft and physical losses, equalising water distribution among urban users, raising tariffs for heavy water users, reallocating water from agriculture to urban areas and large-scale desalinisation, kept water vulnerability below 33 percent for lower- and higher-income households across all modelled scenarios through 2100. 
The likelihood varies of suggested interventions being realistically implemented, says Alham Al-Shurafat, water and environment department manager of Methods for Irrigation and Agriculture, Jordan . The Red Sea-Dead Sea Conveyor Project, for example, which aims to provide desalinated water to Jordan, Israel and the Palestinian Territories, is vulnerable to foreign policy changes. "It isn't possible to anticipate when it will be implemented," she says, "I think it's more realistic to look at solutions that can be implemented with an independent Jordanian decision." For Al-Shurafat, the most feasible interventions are local ones: reducing water loss due to theft and faulty meters and reducing groundwater use in agriculture through alternative sources, such as harvesting rain floodwater.
Rachael McDonnell, strategic programme director of water, climate change and resilience across the Middle East at the International Water Management Institute, says the study does not tackle the critical issue of the political economy of water management, of important mechanisms such as food trade (import and export), and various other factors that have a direct impact on water resource availability, use and planning. "Many of the solutions to the water challenges of Jordan lie outside of water itself. These are as important in tackling future water stress as desalination and internal water policy, governance and regulation," she says.
doi:10.1038/nmiddleeast.2021.34
---