Features
The cost of vaccine inequality
Published online 3 March 2021
Vast economic gaps and conflicts are behind large inequities in vaccine distribution among Arab populations.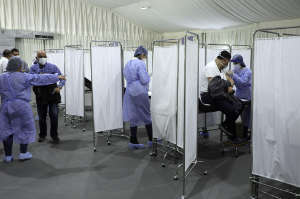 Following concerted global research and development efforts, about 275 million doses of approved COVID -19 vaccines have been administered, covering about 3.5% of the world's population. 
Yet most of these vaccinations have been administered in 10 countries that account for 60 percent of global gross domestic product (GDP), according to a joint UNICEF and World Health Organization (WHO) statement released February 10, 2021.
All countries should have two vaccination targets: to reduce mortalities and severe infections by vaccinating the vulnerable and to reach herd immunity by vaccinating about 70 percent of the population, says Islam Anan, chief executive officer of a healthcare and pharmaceutical research consultancy and lecturer of pharmacoeconomics at Ain Shams University in Cairo, Egypt. 
"The best way to reach these targets is to vaccinate at least 20 percent of the vulnerable as quickly as possible, then to aim for herd immunity by 2022," he says.
Some Arab countries are closer to achieving these goals than others.
For example, the United Arab Emirates (UAE) has administered more than six million doses with a distribution rate of 62 doses per 100 people. It could reach double-dose vaccination of 70 percent of all residents by June 2021. The UAE aims to be the second nation worldwide to achieve this after Israel. The same goes for Bahrain, where 304,000 doses have been administered at a rate of 17.9 doses per 100 people. If this rate is maintained, they could reach 70 percent by July 2022. 
On the other hand, Egypt, with a population of 101 million, had administered 1,315 doses by the end of January. Egypt only recently launched vaccine registrations for healthcare professionals, people with chronic diseases, and the elderly.
The UAE and Bahrain were able to secure early bilateral deals with vaccine manufacturers with delivery commitment, explains Anan. This requires financial power and resources.
Early in vaccine development, the WHO discouraged bilateral deals, since they could disrupt the organization's plans to vaccinate 20 percent of the world's most vulnerable populations. Even so, some countries contracted manufacturers for enough doses for 100 percent of their population. Others, like Canada and Japan, secured even more. 
Bilateral deals "drive up prices and take up the overwhelming majority of the global supply of COVID-19 vaccines for the year, leaving few doses for the rest of the world," says Tammam Aloudat, deputy executive director of Médecins Sans Frontières's Access Campaign.  
Anan argues that the WHO recommendations would have been counterproductive for Arab states. "We wouldn't have seen a single vaccine in the Middle East, since the most developed countries were the first to ignore the WHO recommendations and execute bilateral deals."
A global scheme
The UAE and Bahrain were able to secure early bilateral deals with vaccine manufacturers with delivery commitment
Countries that could not secure their own bilateral agreements had to find alternatives to secure access to COVID-19 vaccines: 92 low- and middle-income countries signed up to access COVID-19 vaccines through the Gavi COVID-19 Vaccines Global Access (COVAX) Facility Advance Market Commitment (AMC). "COVAX's goal is to end the acute phase of the COVID-19 pandemic by delivering two billion doses of safe and effective vaccines in 2021," says Thabani Maphosa, Gavi's managing director of country programmes.
Another factor that makes it possible for "fast vaccinators", says Anan, to reach their vaccination goals is their strong supply chain capabilities: the capacity to ship and properly store vaccines, and to distribute and administer them through mobile and fixed healthcare units. Many countries in the Arab region are struggling with weak and failing healthcare systems, making it more difficult to keep up with vaccination efforts.
"The Palestinian Territories and Tunisia will be among the countries that receive vaccine doses in the first stage of the COVAX plan," says Amgad El-Kholy, WHO epidemiology consultant. Other Eastern Mediterranean countries were initially planned for this first stage, but have been postponed due to poor capacity, he explains. "We are working to support them and build these capacities," he says.
Morocco has been an example of successful vaccine strategy implementation in a middle-income country. The government has distributed around four million doses, with a distribution rate of 11 doses per 100 people. This rate can be compared to well-developed countries with a robust healthcare system, like Denmark. 
Eligible groups in Morocco can book an appointment through a dedicated text messaging number or a web portal.
Conflict zones
Successful vaccination efforts also require a comprehensive database for identifying and reaching the most vulnerable. 
Many Arab countries lack these databases, sometimes because of the collapse of healthcare systems following conflicts in Yemen, Syria and Iraq.
Morocco has been an example of successful vaccine strategy implementation in a middle-income country. 
Conflicts present additional logistical challenges, including the maintenance of a vaccine cold chain. Gavi has a plan for these countries. "We will work closely with partners, including UNICEF, local authorities and NGOs, to rollout vaccines all around the world, including in conflict zones," says Gavi's Maphosa.
Anan thinks clever planning can help countries overcome the challenges posed by prolonged conflicts. He suggests each country should be divided into high, medium and low population zones. With the help of international organizations, healthcare workers and volunteers can build databases of vulnerable groups through registration at vaccination units. Vaccinating healthcare workers should be prioritized depending on whether they work in a high, medium or low population zone, completing this stage by the final quarter of 2021. Other vulnerable groups should then be vaccinated throughout 2022, expanding towards the 70 percent population goal through 2022/2023.
He adds that clear restrictions against vaccine nationalism by international organizations don't appear to be forthcoming, "apart from some non-binding announcements by the WHO, which have been largely ignored by rich countries who have rushed to make bilateral deals and book months'-worth of production."
doi:10.1038/nmiddleeast.2021.21
---