News
Grey mangrove genome decoded
Published online 11 February 2021
Genomic sequencing suggests local species should be used to recolonize Arabia's grey mangroves.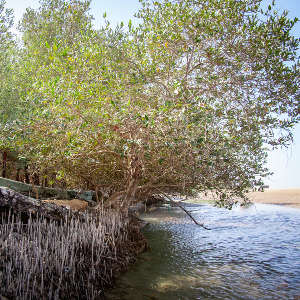 Scientists have sequenced the genome of grey mangrove species (Avicennia marina) surrounding the Arabian Peninsula. It is hoped the data could help reveal how changes in specific genes allowed this woody plant to colonise and adapt to this extreme environment.  
The international team, including researchers from the United Arab Emirates (UAE), Saudi Arabia and Oman, sequenced 60 genomes of A. marina from six different sites in the Red Sea, the Arabian Gulf, the Arabian Sea and the Sea of Oman. 
They identified more than 45,000 protein-coding genes spread across the genome, including in its 200 highly divergent regions that are thought to be involved in adaption. These regions are home to genes that respond to salinity and heat stress, resist drought, and sense ultraviolet and red light. They also include genes with roles in leaf cuticle and root development, inhibition of responses to osmotic stress, and homeostasis maintenance.  
"In contrast to previous studies on the Arabian mangroves based on a few short, specific genetic markers, this is the first study to recover the full chromosome structure of A. marina, showing how genes are sorted and oriented along the genome," says evolutionary biologist and geneticist, Guillermo Friis from New York University Abu Dhabi in the UAE. 
The research reveals that mangroves from the different water bodies around the Arabian Peninsula are genetically different. This indicates that they should be protected independently, the researchers say, and that any reforestation programs should use local mangrove species adapted to the particular environment.
Next, the team wants to use this research to characterise the evolutionary and demographic history of the species, exploring its mechanisms of adaptation to the extreme ecological conditions found in Arabia.
doi:10.1038/nmiddleeast.2021.13
---