News
Engineering a new path to space 
Published online 14 July 2020
With the Hope probe's imminent launch, the UAE has joined the realm of space contenders.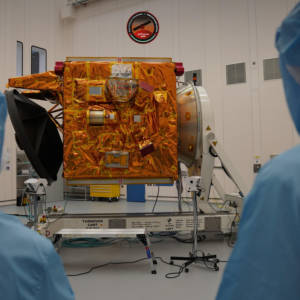 For Sarah Al Amiri, space was first a fascination and a philosophical endeavour. Over the last six years, as deputy project manager of the Emirates Mars Mission (EMM), it has become her life's focus. 
Her journey began when she joined Dubai's Mohammed bin Rashid Space Center (MBRSC) upon leaving university. Al Amiri was tasked with operating the UAE's first Earth observation satellite, DubaiSat-1, immediately after its launch in 2009, to understand how to design and develop a satellite by using one. Her next role was to help develop the ground systems of DubaiSat-2, launched in 2013. Later that year, she started working on the EMM.
A computer engineer by education, the path of 33-year-old Al Amiri, from programming to science lead of a space exploration mission, is illustrative of the risks the UAE has taken in its bid to send an unmanned probe to Mars to build the first full picture of its climate throughout one Martian year. 
The EMM Hope Probe is scheduled to launch on July 15 from Japan's Tanegashima Space Centre, and will arrive at Mars in February 2021. 
The mission's goal is in line with the UAE's aims to transition from an oil-based economy to a knowledge- and innovation-based one over the next 50 years.
Space exploration was promoted as an industry to develop multiple skillsets and nurture people capable of taking on elevated risks, says Al Amiri, who is also minister of state for advanced sciences. The UAE predicts the development of a space industry will benefit a range of sectors, including education, biotech and engineering, and will diversify its economy. 
Attracting future generations to study science, technology, engineering and maths is necessary for this happen, as is the assurance of job prospects. 
In the past, limited career opportunities for graduates of physics and mathematics outside academia and teaching meant students opted for other disciplines, explains Al Amiri. Among the first challenges the team encountered at the outset of the EMM was a lack of Emirati planetary scientists. 
With the 2020 launch deadline set, waiting up to 12 years for Emiratis to go from bachelor's degree to post-doctorate was not an option, she says. Instead, the team took a novel approach to compensate for the absence of personnel: re-tooling engineers as apprentice scientists, who absorbed knowledge while paired with experienced scientists from various partner organisations. 
The knowledge partnerships, primarily with the Laboratory for Atmospheric and Space Physics at the University of Colorado Boulder, as well as Arizona State University, and the University of California, Berkeley, have been crucial to the EMM science team.
To develop talent within the mission, MBRSC set up an apprenticeship programme for current employees. For the original engineers, on-the-job learning was supplemented with physics and atmosphere dynamics courses, and further training. "This is not an ideal approach, but it's the one we chose to ensure we didn't lose knowledge in the pipeline," says Al Amiri, "Our purpose from this mission was to develop capacity and capabilities." 
In parallel, but separate from the EMM, efforts are being made to encourage students to pursue graduate studies in the fields of physics and planetary science, including a research experience programme for undergraduates in cooperation with partner organisations, and an international PhD scholarship programme in planetary science, funded by MBRSC and the UAE government. 
The EMM set, and met, their timeline of six years, which Al Amiri concedes was challenging. 
Reducing overall complexity and reusing some systems helped cut development time, she says. "We looked at it from a different perspective, and we didn't have a normal way of doing business, as other countries do. That helped us develop a new model for planetary exploration at a relatively lower cost than the current missions that are out there."
Space missions often have a suite of many sensors, Al Amiri explains, while the Hope Probe only carries three instruments: a digital camera, and infrared and ultraviolet spectrometers.
"It's a very specific mission for achieving specific goals," she says, "We hope that this spurs a different category of missions to go to outer space and discover different planets, different moons and expand upon scientific knowledge more rapidly than we're used to."
After the launch, the team will conduct the checks required during Hope's journey to Mars and again once the probe enters into a capture orbit to ensure the instruments are calibrated and validating data properly, Al Amiri says. This will be a continuous cycle effort during the transition to science orbit and through to what is called 'end of life'. 
Following one Martian year, and a further six months of data analysis, they will know whether their questions were answered, and the mission was a success. 
With the tremendous risks inherent in space exploration, Al Amiri is under no illusion about possible outcomes. "History has taught us only half of Mars missions succeed."
doi:10.1038/nmiddleeast.2020.76
---