News
Kidney health atlas reveals burden of disease in Middle East
Published online 18 April 2019
Patient attitudes and physician availability are the main barriers to kidney disease treatment in the Middle East.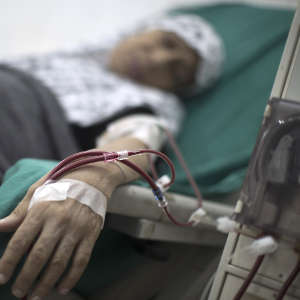 The Global Kidney Health Atlas estimates that, by 2030, 14.5 million people will require treatment for end-stage kidney disease, yet, due to economic, social or political factors, only 5.4 million will have access to dialysis or kidney transplantation.
The atlas, which analysed data from 160 countries, including 10 in the Arab region, highlights end-stage kidney disease as a major public health problem seven times more prevalent in low-income countries, with only four per cent of patients having access to treatment, compared to 60 per cent in high-income ones. 
In the Middle East, defined by the atlas's data on Arab countries and Iran, fewer people than the global average are being treated for end-stage kidney disease with dialysis and kidney transplants. 
And, while the incidence of kidney transplantations from living donors is above the global average, it is below average when it comes to receiving them from deceased donors.
"Considering the increasing incidence of new patients in need of transplants, measures to remove the barriers to cadaveric kidney transplant will help increase the total number of kidney transplants in the Middle East," says Shahrzad Ossareh, co-chair of the Middle East Regional Board of the International Society of Nephrology, and co-author of the atlas.
Also, although Middle Eastern countries provide, on average, more public funding for kidney disease treatments than others, the management of associated complications, such as anaemia, bone disease and malnutrition, tends to be excluded from publicly funded services.
All in all, the main barriers to treatment of kidney disease in the Middle East are the lack of availability of nephrologists and a reluctance by patients to seek treatment. There are only 8.1 nephrologists available in the Middle East for every million people, compared to a global average of 9.95. Middle Eastern countries have more nephrology trainees, however, than the global average (1.8 per million population vs 1.4), suggesting that steps are being taken to address the shortage of kidney specialists.
"The atlas identifies significant inequities in accessing treatment across countries in the Middle East. The next stage is to define and implement strategic plans to minimize these inequities," says Ossareh.
doi:10.1038/nmiddleeast.2019.57
---
Bello, A. K. et al. Global Kidney Health Atlas: A report by the International Society of Nephrology on the global burden of end-stage kidney disease and capacity for kidney replacement therapy and conservative care across world countries and regions. International Society of Nephrology. (2019). http://www.theisn.org/global-atlas