Research Highlights
Controlling phase for rapid memory
Published online 9 August 2018
A novel method for controlling the electrical currents within a superconducting device shows promise for high-speed memory storage in future computers.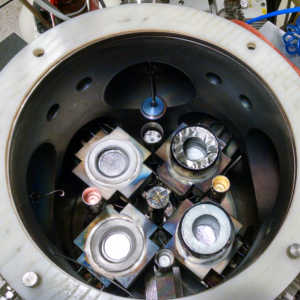 Computer circuits built using superconductors could have several advantages over conventional electronics. The total lack of electrical resistance in superconductors could allow greater power efficiency, and the strange quantum physics associated with these materials — particularly the ability of electrons to 'quantum tunnel' across energy barriers — opens up new possibilities for logic operations within the circuits.
Now, Norman Birge at Michigan State University and co-workers, including a researcher affiliated with Khalifa University of Science and Technology in the United Arab Emirates, have demonstrated a promising new way to control the electrical current within a superconducting device called a Josephson junction.
In a Josephson junction, a very thin layer of non-superconducting material acts as an energy barrier between two superconductor layers, and electrons can quantum tunnel across this barrier, resulting in a current. Birge and co-workers made a new multi-layered Josephson junction with three ferromagnetic layers acting as energy barriers, arranged so that their directions of magnetization were perpendicular to each other.
By installing their junction in a structure called a superconducting quantum interference device (SQUID), and cooling the system down to superconducting conditions using liquid helium, the researchers were able to detect changes in the phase of the current. Their measurements confirmed a theoretical prediction that the phase would shift by either 0° or 180° depending on how the direction of magnetization changes across the different layers.
The switchable and measurable nature of this SQUID device makes it a strong contender for use in computer logic. "We are working in collaboration with scientists at Northrop Grumman Corporation toward using these types of controllable Josephson junctions as memory devices for a superconducting computer," says Birge.
doi:10.1038/nmiddleeast.2018.90
---
Glick, J. A. et al. Phase control in a spin-triplet SQUID. Sci. Adv. 4, eaat9457 (2018).