News
Delving deeper into date fruit metabolites
Published online 26 September 2018
Anti-oxidants present in date fruits last long enough in the bloodstream to have a potential health effect.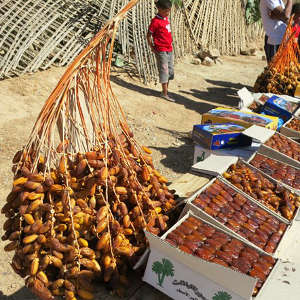 The identification of some biologically active compounds that remain in the bloodstream following the ingestion of two popular date varieties could improve scientific understanding of their health benefits.
Date fruits are among the oldest cultivated fruits in the world. They are known to be rich in biologically active compounds with anti-oxidant properties, but it is unclear which of these compounds enters and remains in the bloodstream long enough to have a health benefit.
Researchers at Weill Cornell Medicine-Qatar collected blood samples from 21 healthy volunteers at five time-points following the ingestion of a glucose drink (control), Khalas dates, and Deglet Nour dates. There was at least a one-week interval between the testing of each of the three products. The Khalas and Deglet Nour date varieties were chosen due to their distinct genetic and metabolic profiles and commercial importance.
Overall, 36 metabolites significantly increased in the bloodstream, of which some were specific to date fruit consumption. These included the metabolites of the polyphenols caffeic, ferulic, and vanillic acid, which can be beneficial in complex chronic diseases, given their anti-oxidant and anti-inflammatory properties. Consumption of serotonin-rich Deglet Nour dates did not lead to a rise in blood serotonin levels. Instead, it quickly broke down into its metabolite 5-hydroxyindolacetate. This implies that these dates are not useful as a serotonin supplement in healthy individuals for mood, appetite and sleep regulation. 
Weill Cornell Medicine-Qatar biophysicist Karsten Suhre says the findings "can be useful for clinicians when determining the impact of these metabolites in the management of complex diseases, but will require further work, with input from nutritionists." 
Food chemist Chang Lee of Cornell University in the USA, who was not involved in the research, says "[the study] appears to be comprehensive and provides valuable information on the potential health benefits of date fruits." However, he cautioned that, since individual differences may affect health benefit outcomes, "we are still a long way from finding the specific health benefits of date fruits for common consumers." 
doi:10.1038/nmiddleeast.2018.119
---
Mathew, S. et al. Metabolic changes of the blood metabolome after a date fruit challenge. J. Funct. Foods 49, 267–276 (2018).