News
Harvesting desert air for water
Published online 22 April 2017
A sunlight-powered device pulls fresh water out of dry air.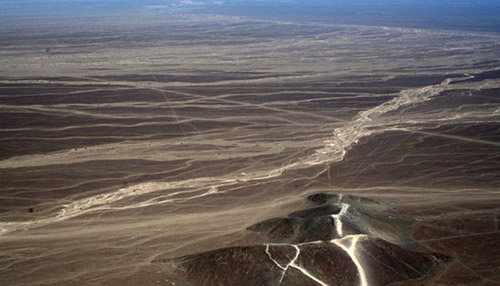 A new device powered entirely by sunlight harvests water directly from the air. The harvester is effective even at low humidity levels, offering the hope of providing water to people living in arid areas.1 

The prototype was developed in a collaboration between Omar Yaghi's lab at UC Berkeley and Evelyn Wang's group at MIT, both USA. "This is the first device capable of water capture and delivery under conditions typical of arid regions, making it possible to water those areas," says Yaghi, who is also affiliated with the King Abdullah University of Science and Technology, Saudi Arabia.

The harvester is a proof-of-concept of an approach proposed by Yaghi's group in 2014 to use a metal–organic framework (MOF) to harvest atmospheric water. 

In MOFs, organic and metallic components are stitched together to create extremely porous materials, with surface areas as high as 7000 m2 per gram. 

"To the naked eye, they appear no different than sand, but each granule is riddled with holes," explains Yaghi. 

The nanometer-sized pores passively capture water molecules from air passing through the MOF. As sunlight heats the material, the concentrated water is released as vapour, which then collects on a condenser kept at ambient air temperature. Based on the performance of the test device, the researchers calculate that a single kilogram of MOF could harvest 2.8 litres of water per day at relative humidity levels as low as 20%, producing fresh water from dry air and sunlight.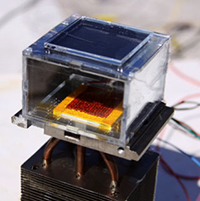 "This is a smart piece of engineering which takes advantage of the peculiar adsorption properties found only in MOFs," says Jérôme Canivet, an MOF researcher in David Farrusseng's group at the Université de Lyon, France, who was not involved in the study. Canivet and Farruseng add that the harvester may be quite beneficial in water-poor areas if production costs can be kept low.
While the final production and maintenance costs will depend on a variety of factors, the MOF used in the device (known as MOF-801 or Zr-fumarate) is composed of relatively inexpensive materials. According to Yaghi, "harvesting water using MOF-801 is certainly an economically viable solution."
Yaghi hopes the water harvester will be commercialized within a few years, but this is just a first step towards his grander vision. "I'd like to see water off-grid, where you have a device at home running on ambient sunlight and delivering water that satisfies the needs of a household, which is what I call 'personalized water'," he says.
doi:10.1038/nmiddleeast.2017.72
---