News
Yemen on the pathway of devastating wheat stem rust disease
Published online 30 October 2017
Researchers set up a modeling system to track fungal spore dispersion across continents, and Yemen presented as a key location.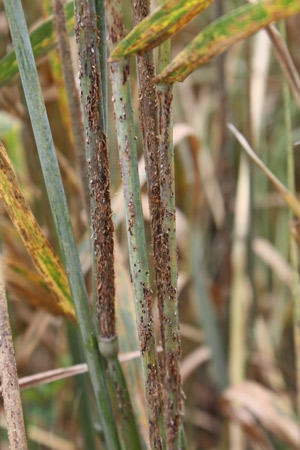 Wind traveling from one continent to another is responsible for dispersing and transporting a significant amount of wheat stem rust to faraway locations. 
The deadly and devastating disease, known as wheat stem rust or black rust, covers the crop's leaves and stems with red blister-like pustules, and is caused by a fungal pathogen called Puccinia graminis.
In order to precisely map spore dispersal of the pathogenic disease over long-distance routes in and in between continents, and assess the likely of its deposition, scientists from the University of Cambridge and the UK Meteorological Office, in collaboration with the International Maize and Wheat Improvement Center (CIMMYT) developed a unique modeling system. 
Their study, published in Nature Plants1, pinpoints the most frequent dispersion routes taken by these pathogens from within Africa to the Middle East, all the way to Western Asia through Yemen and back. 
To accomplish this, scientists fed large-scale meteorological datasets into NAME, the UK Met Office atmospheric dispersion modeling system, originally developed to model aerial dispersion of nuclear and chemical accidents, volcanic eruptions and airborne animal diseases. 
In case of strong winds, it can take a mere 24 hours for Ethiopian spores to reach Yemen, says Marcel Meyer, a PhD student in the Epidemiology and Modeling Group at Cambridge University and lead author of the study.
"Most of the long-distance spore routes from East Africa and Asia pass through Yemen."
During the second half of the twentieth century, sustained efforts to develop stem-rust-resistant wheat varieties almost completely eradicated the disease, which only persisted in small pockets. But in 1999, a unique, highly virulent race of stem rust called Ug99 was discovered in Uganda. The new strain put a large proportion of the world's wheat at risk, threatening farmers' livelihoods. 
"Stem rust, historically, has been the most feared disease of wheat," says David Hodson, the study co-author and senior scientist at CIMMYT in Ethiopia. "If conditions are favorable, it is capable of causing a 100% crop loss within weeks," he says. 
Yemen: a stepping stone on the dispersal route 
According to the study, Yemen is a key point on the spore dispersal route from East Africa all the way to Iran, Afghanistan and Pakistan, or towards India. In case of a large outbreak in Eastern Yemen, the scientists predict a 30% chance of transmission of pathogens to other countries to occur. 
In their study, they also identified the dispersal route of another pathogenic strain, TKTTF, which is distinct from Ug99 but just as dangerous, and is expected to flow from the Middle East to East Africa. 
According to Meyer, Yemen's most frequent outgoing dispersal route is towards Ethiopia, because of the topography and the wind.
"Most of the long-distance spore routes from East Africa and Asia pass through Yemen, so not being able to work there at the moment is a serious limitation," adds Hodson, who coordinates a stem rust surveillance network of over 35 countries. "Our colleagues in Yemen have done an amazing job at trying to maintain surveillance work there, but in the last season it has been impossible." 
Although plant breeders have been developing dozens of wheat resistant varieties since the late 1990s, disseminating them across Africa, the Middle East and Asia, Ug99 has meanwhile mutated into 13 races within the same genetic lineage, with each new race being more virulent than the last. 
"If the farmer grows a resistant variety," says Hodson, "this is our best chance to mitigate stem rust." But if the resistance breaks down, the farmer would need an early warning system to be able to spray fungicide.
Mourad El Jarroudi, senior scientist in crop modeling systems at the University of Liège in Belgium who was not part of the study, believes that evaluating the route of spores across the globe is very important, "especially in the case of rusts." 
"Combining a growing network of countries with technology and information strengthens global prevention and control of emerging and re-emerging infectious diseases," he says.
doi:10.1038/nmiddleeast.2017.154
---