Research Highlights
Sealing a suture-free future
Published online 15 October 2017
A new suture-less sealant engineered from a protein derived from human tissue is effective for wound closure in dynamic tissues.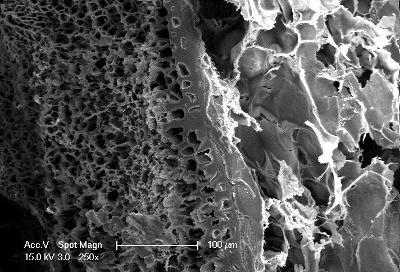 Sutures, staples, and wires enable wound closure, but healing fragile or elastic tissue, like a breathing lung after a pneumothorax, is more challenging. 
Synthetic surgical sealants help address this challenge, but often only possess one or two of the following optimal characteristics: elasticity, tissue adhesion, non-toxicity, and biocompatibility.1  
An international team led by Nasim Annabi and Ali Khademhosseini, who is affiliated with the King Abdulaziz University in Saudi Arabia, endeavoured to engineer a material that effectively met all the requirements, publishing their results in Science Translational Medicine.2
The team cross-linked tropoelastin, which produces the protein that makes up the elastic fibres in human tissue, using a reagent (methacrylate) activated by a burst of light, to produce a highly elastic hydrogel they called MeTro. 
The sealant was successfully applied to preclinical rat and porcine models. It was biocompatible (since it was derived from human tissue) and remained in place for two weeks of follow up, with no toxicity and controlled in vivo degradation. 
Compared with several commercially available sealants, MeTro provided greater tensile strength, elongation, adhesive strength, and burst pressure resistance.
Khademhosseini stated that "[MeTro] checks off all the boxes of a highly versatile and efficient surgical sealant with potential beyond pulmonary and vascular suture and staple-less applications."
The team now hope to launch the first phase of human clinical trials and investigate other adhesion methods to guide the next-generation of MeTro formulations.
doi:10.1038/nmiddleeast.2017.146
---
1. Annabi, N., Yue, K., Tamayol, A. & Khademhosseini, A. Elastic sealants for surgical spplications. Eur. J. Pharm. Biopharm. 95, 27–39 (2015). 
2. Annabi, S. et al. Engineering a highly elastic human protein-based sealant for surgical applications. Sci. Transl. Med. 9, eaai7466 (2017).