Features
Egyptian researchers decry 'security monitoring'
Published online 21 June 2016
Many researchers believe they are losing more of the few academic freedoms they previously had.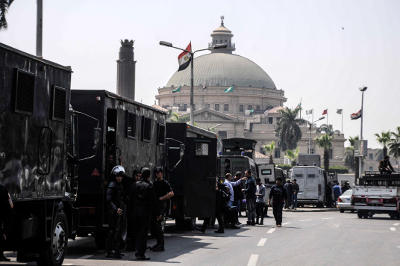 At the end of 2015, Egyptian researcher Kholoud Saber received an email from Cairo University informing her of the termination of her academic scholarship abroad. The correspondence passed on a decision made by the General Administration of Surveying and Information, an office connected to Egypt's Ministry of Higher Education. 
Saber was already in Belgium, conducting her PhD studies on female survivors of sexual violence on a scholarship at the University of Leuven. 
Months earlier, she had received all the requisite approvals from Cairo University for her studies abroad. In February 2016, after much Egyptian media attention, Saber was informed that the president of Cairo University had finally intervened, allowing her to continue her studies in Belgium.
A few regional public universities reference the General Administration of Surveying and Information on their websites, but information is often vague.
Mansoura University's website informs its faculty they must obtain approval from this administration for bilateral research agreements with "Arab or foreign universities". 
Kafr Elsheikh University's website says its Division for Graduate Studies and Research is responsible for obtaining security approvals from the General Administration of Surveying and Information regarding the travel of graduate students and thesis supervisors into or out of the country.
Damanhour University's website goes into greater detail on a page that describes the roles of its director of security within the university. 
According to the page, the director of security at the university is responsible for referring to the General Administration of Surveying and Information for their security opinions on several matters. These include appointments of faculty, their travel abroad, their "frequenting" of foreign embassies, or their admission for the study of languages at foreign schools and institutes. 
One of his roles is also "to guide staff going on official missions or scholarships abroad against the attempts of the enemy to obtain information from them about their mission and to recruit them for purposes of espionage." 
The Ministry of Higher Education could not be reached for comment. 
"Why do universities refer to the government in the first place?" asks Cairo University mathematician Hany El-Husseiny, also a leading member in the March 9 Movement for the Independence of Universities, founded in 2003. "Government is not a part of the university or its administration."
Human rights lawyer, Gamal Eid, believes that the current government "is trying to restrict all areas of the public sphere, universities included… just as it is doing by shutting down cultural organizations, or what it is doing with civil society organizations and the media." 
Eid is currently representing, among others, two detained researchers: Hisham Gaafar and Ismail Iskandarani.
Gaafar, the head of the board of trustees of Mada Foundation for Media Development, is charged with belonging to a banned group and accepting bribes from foreign bodies in exchange for information. The lawyer, however, believes the real reason is a research-based joint charter that Gaafar prepared in collaboration with political parties and individuals in Egypt, which provides guidelines on ethical conduct in the political sphere, which was prepared without involving Egypt's security apparatus. 
"Society will benefit from breaking taboos and this is how knowledge progresses."
Ismail Iskandarani is an analyst of Islamic extremism in Sinai. Eid believes his detention is because he has written alternative narratives to current state strategies in dealing with extremism in the peninsula.
"The value of academic freedom is in its ability to protect people who are defying the normal narrative, the normal received wisdom," says Khaled Fahmy, visiting professor of Middle Eastern studies at Harvard University. "The philosophy behind this is that society will benefit … from breaking taboos and this is how knowledge progresses."
Social science and humanities researchers appear to be the most affected by security restrictions. One of the problems, Fahmy believes, is that the concept of the aggregation and production of knowledge in social sciences and humanities is not understood. "[There's] an inherent suspicion of knowledge when it comes to the social sciences and the humanities especially if it is done by foreigners," he says.
Fieldwork is particularly challenging for social scientists. Egypt's Central Agency for Public Mobilization and Statistics (CATMAS) was founded in 1964, and an article in its charter states that "ministries, bodies, parties and individuals belonging to the government, the public or the private sectors cannot publish by any means any publications or results or information or statistics unless provided by CATMAS. Any statistics not falling under CATMAS may not be published without the agency's approval." 
Approvals take months, says Kholoud Saber. 
Researchers in the natural sciences also face problems, according to El-Husseiny, the Cairo University mathematician. The government and its university-based representatives restrict their work by controlling funding of their research projects, he says.
Egyptian researchers and their supervisors will also often avoid topics they feel might be contentious, explains Saber. They also often eschew projects that demand fieldwork in order to avoid the lengthy CATMAS approval process, she says, creating a culture of self-censorship. 
Fahmy believes the solution is not in reforming the country's security apparatuses as much as it is in having a counterbalancing force: a push for academic freedoms from the academics themselves. 
"Security services … have to do their job," he says. "Our energies should be focused on helping that constituency of academics, journalists and writers who believe in the value of free expression [through] training, legal aid, information, networking." 
El-Husseiny says one reason academics lack enthusiasm in defending their freedom is a lack of awareness about the value of academic independence to begin with. But this is changing, he says. 
Now, many academics understand that government funds universities with taxpayers' money and that university administrators should be responsible for monitoring their expenditures.
This understanding, he says, has not prompted academics to defend their independence, because they fear the risks of confronting the authorities and security apparatus.
doi:10.1038/nmiddleeast.2016.97
---