Features
The rise of Saudi Arabia as a science powerhouse
Published online 30 May 2016
Oil fuels Saudi Arabia's rise as a regional science powerhouse.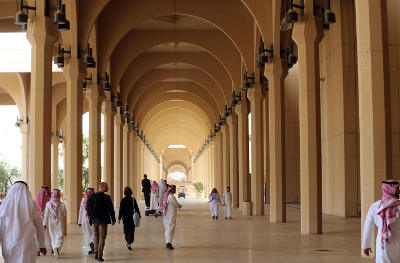 A new Nature Index supplement, dedicated to Saudi Arabia, charts the quick ascent of the desert kingdom's scientific output over the past four years.
While Saudi Arabia is the world's biggest oil producer, the country has directed a good portion of its revenue to improving education and research. These improvements are driven by a comprehensive national science strategy to be implemented until 2030. Over the past five years, it has made vast investment into high-tech universities and cutting-edge laboratories, and by 2015 Saudi Arabia became the Arab region's most prolific nation in research.
The index tracks this through a metric called weighted fractional count (WFC), which measures a country's or institute's contribution to research published in high-impact journals tracked by the index.
Saudi Arabia's global ranking in WFC has improved from number 39 in 2012 to 31, making it West Asia's second most scientifically productive country after Israel. Its WFC has more than doubled over the past year, making it the world's eighth largest riser.
Chemistry is the main driver of Saudi Arabia's science boom, with chemistry-related papers making up two-thirds of the kingdom's research output.
Five research institutions are currently at the vanguard of Saudi Arabia's growing research landscape, and in the lead is King Abdullah University of Science and Technology (KAUST).
KAUST ranks first in the kingdom and 173rd globally, as per the Nature Index, and is the only Arab institute to be classified among the world's top 500 science institutions. "Chemistry, including materials sciences, is a central science with key implications in energy, water, environmental science and food, four of the main areas of activity at KAUST," explains Jean Fréchet, KAUST's vice-president for research. 
Different paths
Almost all Saudi Arabia's research institutes are involved in strong collaborative efforts with international institutes. But the two leading institutions, KAUST and King Abdulaziz University (KAU), have different approaches. While KAU publishes more collaborative papers than KAUST, its overall contribution to joint research conducted is much smaller. 
Some institutes are actively pursuing collaborations with Saudi or Arab-based research centres.
A visiting KAU professor suggests that "Saudi academics at KAU have consistently been encouraged to focus on tangible, applied research and are in general less abreast of cutting-edge science than KAUST's staff." 
However, much of KAUST's research takes place at home, with KAUST researchers taking leading roles, says Christian Voolstra, a marine biologist at KAUST. "My lab has long-standing collaborations with the marine faculty from KAU where everybody benefits from everyone: KAUST benefits from the regional expertise of KAU, KAU benefits from the infrastructure at KAUST, and both institutions benefit from working with international collaborators," says Voolstra. 
Fréchet explains that KAUST's approach differs from other scientific institutions because of the way it is structured. Based on the model of Caltech (California Institute of Technology), it works on small and highly-focused research in selected areas of science and engineering. 
"We have 140 faculty members, recruited from the best institutions worldwide, whereas other universities are much larger with thousands of faculty members and tens of thousands of undergraduate students, which prevents them from being focused on a small number of research fields," he adds.
Domestic and regional collaborations 
While Saudi Arabia's domestic and regional scientific collaborations are dwarfed by the kingdom's joint scientific efforts with the United States, Asia and Europe, some institutes are actively pursuing collaborations with Saudi or Arab-based research centres. 
King Faisal Specialist Hospital & Research Centre (KFSH&RC) leads the kingdom's institutes when it comes to domestic collaborations, with nearly a third of all its research in partnership with other Saudi institutes. In contrast, the highest-ranking Saudi institutes in the index, KAUST and KAU, have the least domestic collaboration. 
While chemistry takes the lion's share of the kingdom's collaborations, life sciences are the strong driver of domestic and regional collaborations. 
doi:10.1038/nmiddleeast.2016.78
---