Features
Ancient Egyptian plants to tell the story of a civilisation
Published online 31 October 2016
Analyzing plant micro-fossils down to the cellular level is a 'magical' gate to understanding the past.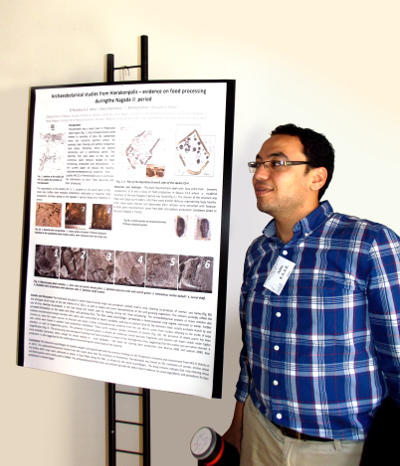 Elshafaey Abdellatif Elshafaey is part of a new generation of Egyptian archaeological scientists changing our understanding of the past.
Elshafaey, a doctoral candidate in the Department of Botany and Microbiology at Helwan University, is trying to understand how the development of the ancient Egyptian state in the 4th Millennium BCE changed the environment, agricultural regimes, diet, and food economies.1 
His quest requires an in-depth analysis of plants' cellular structure and genetic affinity from many different sites with varying degrees of organic preservation. 
Traditionally, an archaeobotanist like Elshafaey would sift through soils and sands for macro-botanical remains — traces of plants like seeds and fibres. However, these macro-remains don't always survive and often reveal only a fraction of the complex plant ecology. Also, macro-remains don't provide sufficient resolution to identify a spectrum of changes within the plants themselves. 
Through phytolith analysis, Elshafaey found "a magical solution to reconstruct past vegetation, climate change, and ecology". 
Phytoliths are essentially micro-fossils of plants — the mineralized secretions from decomposed plants that form silica 'skeletons' that can reveal plant remains down to their cellular level. These micro-fossils rarely decay and are so tiny that they can be found everywhere, in almost any soil condition, and in any material, from grinding tools and pottery to calculus build-up in ancient human and animal teeth.
Developing phytoliths analysis in Egypt 
Phytoliths analysis of ancient plants would not be possible in Egypt without the drive and efforts of the late Ahmed Fahmy, a committed botanist and archaeobotanist from Helwan University. After Fahmy joined the Department of Botany and Microbiology at Helwan University, he received a grant from the Alexander von Humboldt foundation in 2003 that took him to Germany to study West African phytoliths.2,3
Upon his return, Fahmy set up the first phytolith teaching and research programme in Egypt at Helwan University's Herbarium and associated phytolith extraction lab. His tireless efforts secured American National Science Foundation (NSF) and Egyptian Science and Technology Development Fund (STDF) grants in 2006 to develop these facilities.
After Famhy died in 2013, Elshafaey has sought to complete his mentor's work. 
Phytoliths, plant economy and the early Ancient Egyptian state 
Elshafaey's research to uncover the plant economy at the pivotal moment of ancient Egyptian state-formation is based on excavations at sites, such as Tell el-Iswid, in the water-logged Nile Delta. The poor preservation of organic material means macro-plant remains are less revealing, making it necessary to examine phytoliths to recover the full spectrum of the plant ecology.  
Elshafaey says:,"Phytolith assemblages are inorganic and unaffected by soil microorganisms and therefore may yield information about prehistoric conditions of a landscape."
Elshafaey wants to know how environment and plant economy were affected by the transition from small-scale Neolithic farmers to the early ancient Egyptian state. 
Cereals, namely wheat and barley, were the mainstay of the ancient Egyptian economy and are the key to Elshefaey's research. Phytolith analysis will allow him to identify changes in genetic affinities in cereals that can shed light on wider decisions related to agricultural production.  This process is, however, far from straightforward. 
Creating an Egyptian phytolith taxonomic key 
There is a great amount of multiplicity and redundancy in phytolith morphology, so identifying plant remains from small phytoliths is hampered by taxonomic problems. For instance, there are many silica skeleton varieties in an individual plant, and a significant amount of morphological overlap between different plant types. Better methodology is needed to identify plants based on phytoliths. Without a large reference key for Egyptian plants, research can't proceed. 
Elshafaey is currently creating a taxonomic key for ancient phytoliths,4 so that identification can, "move beyond family and find genus or even species level." 
His research has yielded more than 1,000 samples from plants in the Eastern Desert and the Mediterranean coast. Elshafaey has identified morphotypes of phytoliths that have never been discovered before. This taxonomic key provides the foundations for Elshafaey and other researchers to better-utilize phytoliths to address questions surrounding ancient plant ecologies. 
"The phytolith lab at Helwan University is ground breaking; it's the first and only one of its kind in an Egyptian university," as Mennat-Allah El Dorry, an archaeobotnoist at the Minister's Scientific Office at the Ministry of Antiquities, explains. 
Despite its isolation, this facility is enabling a new generation of archaeological scientists in Egypt, like Elshafaey, to apply innovative science to ancient materials. 
doi:10.1038/nmiddleeast.2016.197
---
Elshafaey, E.A. et al, "Predynastic Plant Economy in the Nile Delta: Archaeobotanical Evidence from Tell El- Iswid." Supplemento Atti Soc. Nat. Mat. Modena 146 (2015).
Neumann, K. et al, "The Early Holocene palaeoenvironment of Ounjougou (Mali): Phytoliths in a multiproxy context." Palaeogeography, Palaeoclimatology, Palaeoecology 276, 87 – 106 (2009)
A.G. "Diversity of lobate phytoliths in grass leaves from the Sahel region, West Tropical Africa: Tribe Paniceae." Journal of Plant Systematics and Evolution 270 1-23 (2007).
Elshafaey, E.A. Comparative Study of Phytolith Assemblages of Eastern Desert and Mediterranean Coastal Region, Egypt. Unpublished PhD, In Progress, Department of Botany and Microbiology, Faculty of Science, Helwan University.